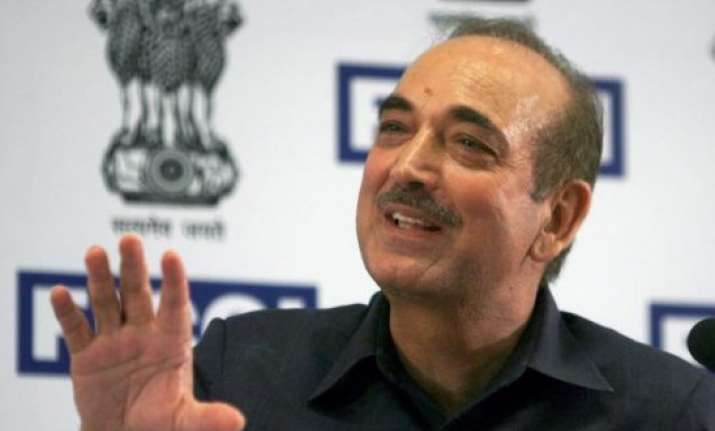 Kathua: Senior Congress leader Ghulam Nabi Azad today lambasted Pakistani Army for deliberately targeting civilians and said it was "rogue Army" as authorities of the neighbouring country have no control over it.
"Pakistani Army is a rogue army because Pakistani authorities have no control over their Army which is an example of indiscipline," said the Leader of Opposition in the Rajya Sabha.
Azad was interacting with border residents at various places in Samba and Kathua districts during his tour of areas affected by firing from across the border.
"Pakistani Army was deliberately targeting civilians population on this side. Even at crucial time, Indian Army never targeted civilian areas but it was very unfortunate that Pakistan Army never followed universal human right norms," he alleged and expressed grave concern over loss of precious human lives in recent firing from Pakistan side in Samba district.
Describing as tragic the incident of Chalayari village of Samba where two women of a family lost their lives in shelling from cross the border, Azad asked Pakistan to desist from violating ceasefire.
"Tension on the border was in nobody's interest and it could also be detrimental for peace and stable environment in the sub-continent," he said and observed that sustained peace and normalcy was pre-requisite for progress and prosperity in the region.
Referring to the loss of life and injuries suffered by the people and the hardships caused to them due to firing, Azad assured people that the Government would take all the required measures to ensure that they lead a safe and peaceful life.
Azad also interacted with border dwellers of district Kathua and Samba, who have been shifted to areas including Kali Bari, Chan Khatrian, Government Higher Secondary School Koota, Government Girls Higher Secondary School Hiranagar and Government Boys Higher Secondary School Hiranagar.
He said, he would take up the issue, with Union Government and Chief Minister Omar Abdullah, of allotment of five marlas of land at safer place for the people of the border area.
He would also ask the government to launch special drive for recruitment of youth of the border areas in Army and Central Para-Military Forces, declaring border areas as RBA as well as providing compensation to the farmers for the crop loss.
Azad also said that adequate measures would be taken on urgent basis for expansion and strengthening of health care services in the entire border belt.