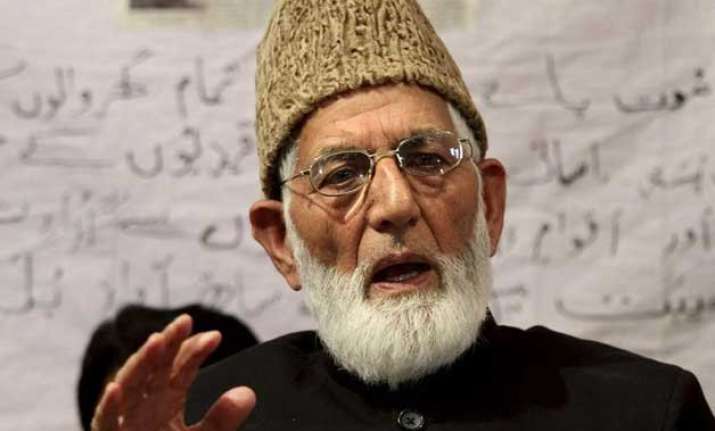 Srinagar: Separatist leader and chairman of Hurriyat Conference breakaway group Syed Ali Geelani has appealed to Kashmiri Muslims to stop the PDP from forming govt with BJP by all means.
Addressing the executive council (majlis-e-shoora) meeting of his faction on Tuesday, Geelani said, "If Kashmiris want to protect their Muslim identity, culture and freedom, they should be mentally prepared to provide a decisive resistance to stop communal forces, who are working on gharwapsi agenda."
Geelani said, a "do-or-die situation will be created for Kashmiris, if the state is handed over to people having fascist ideologies."
The separatist leader compared Mufti Mohammed Sayeed and Omar Abdullah with "the tribe of Mir Jaffar and Mir Sadiq", and said, "enemies from this tribe of Mir Jaffar are queuing to cooperate with communal forces in their mission."
Meanwhile, terrorist outfit Hizbul Mujahideen has said that any government in Jammu and Kashmir will be at India's 'beck and call'.
 
United Jihad Council spokesperson Salim Hashmi yesterday quoted Hizbul chief Syed Salahuddin saying that 'in presence of 8 lakh Indian soldiers, the poll process in Jammu and Kashmir is a futile exercise'.
He further questioned Modi government's claim of offering huge relief fund to the flood victims of Kashmir saying 'they (govt) neither helped the flood victims nor allowed international community to help them'.
"This attitude of the Modi government exposed its anti-Muslim and anti-Kashmir policy," Salahuddin said.