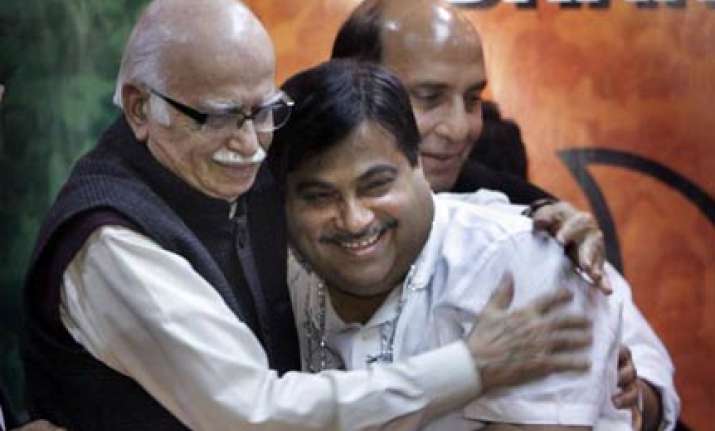 Patna/New Delhi: Sushma Swaraj's comments on Narendra Modi continued to rock the BJP on Thursday with party president Nitin Gadkari meeting senior leader L K Advani after a miffed Gujarat Chief Minister lodged a strong complaint.
With her statement that suggested that Modi's magic need not work in Bihar and hence he may not be required to campaign creating flutters in the party, Swaraj today sought to reach out to Modi by retracting from her statement and claiming she has been misquoted.
The Gadkari-Advani meeting in Delhi took place amidst reports that the party president had told Swaraj not to make any hurtful statements after Modi reportedly took up the issue with him.
"I have been misquoted (on Modi). Words have been put in my mouth," she told reporters in Patna in the midst of her election campaign.
On Monday, Swaraj told a press conference, "Modi's magic and charisma have worked in Gujarat ... but it is not necessary that everybody's magic works at every place.
"In Bihar , the magic of Nitish Kumar and Sushil Kumar Modi is at work ... and we are confident of our victory for carrying forward development," she had said.
Upset over the remarks, Modi is believed to have talked to Gadkari and complained about Swaraj's remarks against him. He reportedly told him that the statement was unnecessary.
Gadkari reportedly talked to Swaraj over the issue and urged restraint. He later went to Advani's house to discuss the issue after which Swaraj talked to reporters in Patna , claiming that neither Modi nor Gadkari were upset with her.
"I talked to Nitin Gadkari yesterday and the day before. He did not even broach the subject. He had called to ask me to attend our Foreign Cell meeting ahead of US President Barack Obama's visit. I have not had any conversation with him on this issue. He did not say a word (on it)," Swaraj told PTI.
The Leader of Opposition in Lok Sabha maintained that words were being attributed to her by some people who had "planted" this report (about Modi being upset with her) in newspapers as "they stand to gain from a fight- where there is none- between Narendrabhai and me".
Asked if these people were from BJP or outside, Swaraj said, "I can't say."
Swaraj said she and Modi shared very cordial relations and this was not liked by some people.
"Somebody is doing mischief... May be since Commonwealth Games corruption cases are being unravelled, some people want to divert attention from it by creating a controversy around BJP. My charge is that there is not even an iota of truth in this," Swaraj said. PTI