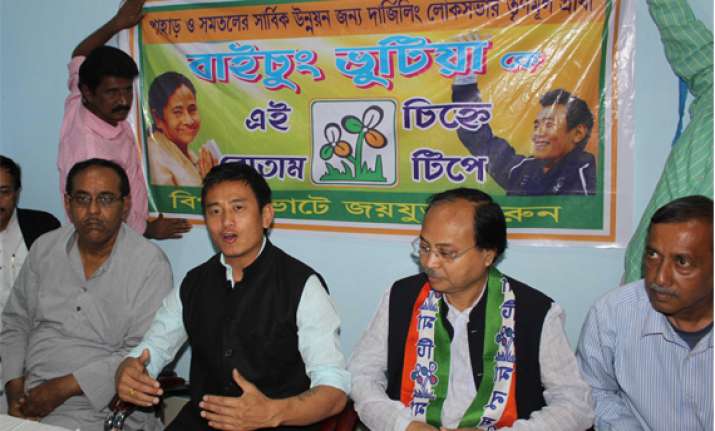 Darjeeling: Bhaichung Bhutia, India's football icon even though he retired from the game some years ago, is now aiming to score a "goal" in his maiden appearance on the tricky political turf as he battles the outsider tag and faces a formidable opponent which rebuffed his appeal for support.
Bred in the sleepy Tinkitam village of mountainous Sikkim, Bhutia has traversed many an uncharted territory in Indian soccer.
Always prepared to go all out for a goal during his long playing career, the former Indian striker captain, who has been known for his stylish game on the field and role model for youth is outside, is hoping to do an encore as he goes from door to door seeking votes as a Trinamool Congress candidate for the Darjeeling Lok Sabha seat.
"Just as everyone goes all out to win and score goals in soccer, I want to do the same to win the poll battle and work for the people of Darjeeling," Bhutia told IANS while campaigning in Siliguri in West Bengal's Darjeeling district.
But the going could be anything but smooth, just like the un-uniform topography of the constituency that comprises mountainous terrains and picturesque tea gardens on the foothills and vast plains.