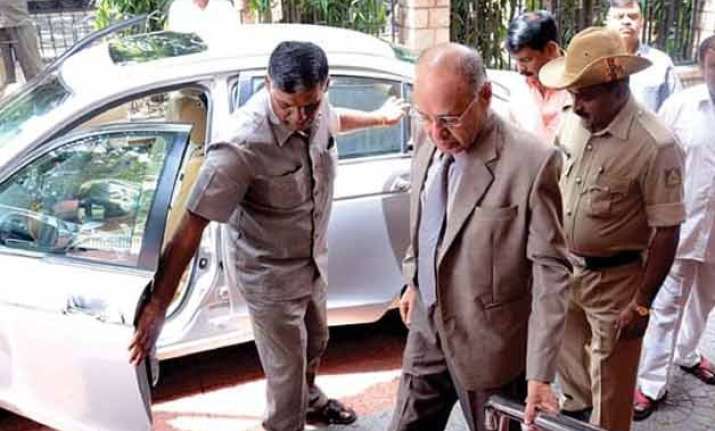 Bengaluru: An FIR was yesterday filed against Karnataka Lokayukta Bhaskar Rao's son in connection with an alleged bribery scandal, as the issue rocked the assembly and pressure mounted for the exit of the anti-graft ombudsman.
The FIR was filed on the basis of a complaint that an executive engineer was asked to pay Rs 1 crore bribe to avoid a raid, Upa Lokayukta Subash Adi told PTI.
Asked if Lokayukta's son would be arrested, he said it was left to the institution's Superintendent of Police Sonia Narang, who blew the lid off the alleged scandal.
The alleged scam came to light after Narang wrote a letter to Lokayukta Registrar about the complaint she received from the Executive Engineer, who alleged that someone from the Lokayukta office demanded Rs 1 crore in bribe to avoid a raid.
As the Opposition and various organisations stepped up pressure for a CBI probe, the government said it could not hand over the case to the central agency unless the Lokayukta itself asks for it.
"This (Lokayukta) Act was made in 1985;... We cannot give it to CBI under Section 15 sub clause 3 of Lokayukta act...," Chief Minister Siddaramaiah said in the Assembly which is holding its monsoon session in Belgavi.
He said as per the recommendation made by Lokayukta under the provisions of the Act, a Special Investigation Team headed by ADGP rank officer Kamal Panth who had earlier worked for CBI, had been formed.
Siddaramaiah said "... We can wait till the SIT report comes," and added that, meanwhile, the government will look at strengthening the Lokayukta Act after taking advice from legal experts and others required.
BJP staged a walkout as the government did not agree to hand over the case to CBI, a demand echoed by JD(S) also.
Rao, a former High Court Chief Justice, has rejected allegations that his son was involved in the scandal and said he would resign if the charge was proved correct.
Pressure for Rao's resignation mounted as several organisations, including advocates, Kannada outfits and other bodies held protests insisting that his continuance was affecting the credibility of the institution itself.
"We don't have any powers to initiate investigation on Lokayukta on our own. Lokayukta has sent a request to form an SIT. On the basis of that request Chief Minister has constituted an SIT under an ADGP," Home Minister K J George told reporters in Belagavi.
"We cannot do it (CBI probe) by ourselves as it (Lokayukta) is a statutory body. We have gone by the request (of Lokayukta on SIT)," he added.
Sticking to his guns, Rao has said he would not resign but would quit "...100 per cent...150 per cent" if any of his family members was found guilty after the probe by SIT.
In the Assembly, Opposition BJP leader Jagadish Shettar said a CBI inquiry should be held "to maintain transparency" and added, "CBI inquiry can do justice."
Demanding that the guilty should be punished so that public trust on the Lokayukta institution is maintained, he said, "The Act should be amended by giving the authority to the House on whose act the Lokayukta institution was created, to order for inquiry against it."
Shettar also put pressure on the government for an FIR to be filed against Rao's son and others involved immediately as they are not part Lokayukta organisation.
JDS leader H D Kumaraswamy also demanded a CBI probe and said that government cannot run away from the responsibility holding that it has no authority according to the Act.
He also quoted media reports that some senior IAS officials had allegedly given money to avoid raid, to which Congress members asked him to name them.
Intervening, Speaker Kagodu Thimmappa asked Kumaraswamy to hand over the list of such IAS officers to the government so as to conduct inquiry.