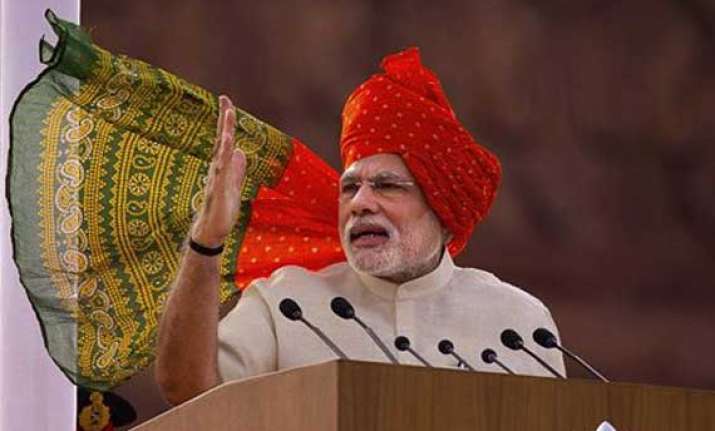 New Delhi: As the Narendra Modi government prepares to complete three months, a survey has found that the Bharatiya Janata Party (BJP) will get 314 seats, 32 more than what it got, if a Lok Sabha election was held now.
The opinion poll found that 57 per cent of the respondents believe that Modi was best suited to be the Prime Minister and that support for the BJP continues to swell.
According to the poll by a leading media group, 48 per cent of people surveyed think Modi has made ministers irrelevant and 47 per cent are sure he will be able to resist the Rashtriya Swayamsevak Sangh (RSS) agenda.
"Having lived through the diarchy of the UPA years, voters want power and responsibility to be vested in the same office," says the poll findings.
If a Lok Sabha election was held again, 48 per cent say they would vote for the BJP again. Support for the BJP, though overwhelming, is still less than Modi's personal popularity.
"While 76 per cent respondents feel safe under the Modi government, (only) 68 per cent Muslims share the sentiment," says India Today quoting from its findings.
"Even more surprisingly, more Muslims say they will vote for the BJP (29 per cent) if they had to again, rather than for the Congress (24 per cent)," it said.
According to the India Today Group-Hansa Research poll, 69 per cent believe textbooks need to be revised, 43 per cent do not want the FDI in retail and an alarming 41 per cent believe that criminal proceedings for comments in Facebook are not an infringement of freedom of speech.
As many as 49 per cent believe their financial situation will improve in future while 65 per cent think that the Modi government will be able to put the economy back on track in six months.
Respondents have indicated they want a strong opposition and hope the Congress will play that role in the Lok Sabha.
The respondents are also willing to give Congress vice-president Rahul Gandhi another chance, preferring him over his sister Priyanka and even his mother Sonia Gandhi.
The people surveyed believe the First Family is the only one capable of providing leaders to the party.
The poll was conducted between August 3 to 14 in 108 Lok Sabha constituencies spread across 29 states and three Union Territories.
The total number of respondents was 12,430. Only face-face and house-to-house interviews were conducted.