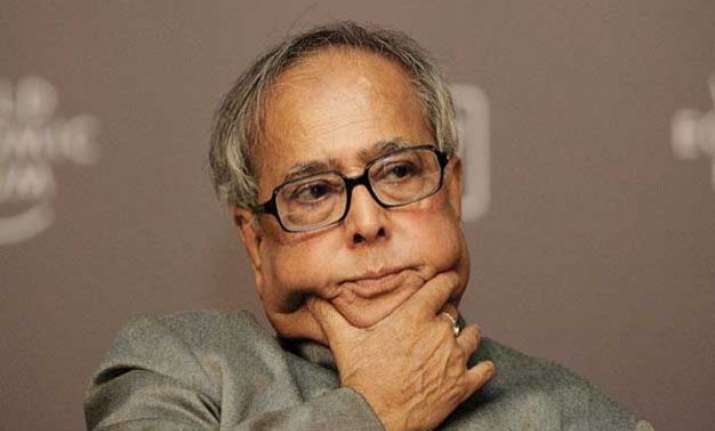 New Delhi: President Pranab Mukherjee on Monday painted a rosy picture of the Indian economy in his annual address to the joint session of both houses of Parliament saying GDP is growing at 7.4% and inflation has fallen to a record low.
Mukherjee said the fundamental tenet of his government was 'sabka saath, sabka vikaas'. The budget session began with President Mukherjee's address that listed down the steps taken by the central government.
Here is the crux of the speech in five points:
# Infaltion and economy
"Inflation and food inflation, in particular, are at a record low due to a number of decisive measures taken by the government," the President said.
Wholesale inflation turned negative for the second time in three months as fall in petroleum and food prices dragged it to a five-and-a-half year low of (-)0.39% in January. The overall food inflation was at 8%.
Mukherjee also said that capital formation, which faced a near stagnation in last few years, has increased.
The President further said that as a result of the government's sustained efforts and a series of policy initiatives, "our economy is again on the high growth trajectory."
According to the latest estimates, India's GDP is growing at 7.4%, which makes the country the fastest growing large economy in the world.
# Growth trajectory
"Inclusive growth covering the poorest of poor is the government's top priority," Mukherjee said.
President Mukherjee said that inclusive growth was a top priority of the government and it was committed to expand the job market.
He said the government was streamlining scholarship schemes concerning the Scheduled Castes and Scheduled Tribes and minorities to ensure their timely disbursement.
The 'My Gov Online Platform', the President said, has ensured public participation in decision-making and better implementation of flagship programmes like Swachh Bharat Mission, Namami Gange, Pradhan Mantri Jan Dhan Yojana and NITI Aayog.
# Black money
"My government is committed to taking all possible measures to stop generation of black money, both domestically and internationally," Mukherjee said.
India is seeking cooperation from a number of foreign jurisdictions, including Switzerland, in cases related to suspected black money.
At home, the Supreme Court-constituted Special Investigation Team (SIT) is looking into the black money issue and in its latest report has disclosed tracing of Rs 4,479 crore held by Indians in a Swiss bank and unaccounted wealth worth Rs 14,958 crore within India.
# Land acquisition
"Government attaches paramount importance to safeguard the interest of farmers and families affected by land acquisition," Mukherjee said.
Amid growing protests against a land ordinance, the President said it has "suitably refined" the Land Act to minimise certain procedural difficulties in acquisition of land for critical public projects even as farmers' interest remained "paramount".
The Right to Fair Compensation and Transparency in Land Acquisition in Land Acquisition, Rehabilitation and Resettlement Act has been suitably refined to minimise certain procedural difficulties in acquisition of land inevitably required for critical public projects of infrastructure and for creation of basic amenities like rural housing, schools and hospitals, particularly in remote areas, he said.
The government has made changes in the Act of 2013 through an Ordinance which it intends to convert into a legislative action during this Budget Session.
# Clean energy
"The government has emphasis on clean energy, aims to take up the share of clean energy upto 15% in the next seven years," Mukherjee said.
The government is emphasising on clean energy and aims to take up the share of clean energy up to 15% in the next seven years, he said.
He added that the process for 25 mega solar parks has been approved and implementation of green energy corridor has been accelerated.
The President said the government has made "successful efforts in attracting global investors".