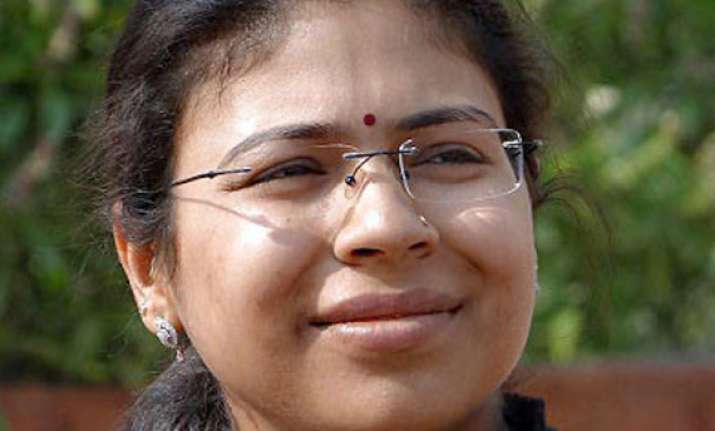 New Delhi, Aug 9: What is the Durga Shakti Nagpal story all about? Is it about a 28-year-old IAS officer, sub-divisional magistrate of Gautam Budh Nagar, trying to live up to her name? The question does suggest itself when you visit her office.
At the end of a long verandah, her name and designation in Hindi, are carved onto a dark blue wooden tablet jutting out of the cracked, yellow wall. But in her room, suspended from the wall, is a calendar with Durga-Shakti, the Goddess, I mean, riding a tiger.
The calendar is actually an advertisement, a sort of promotional gift from a group of lawyers with offices in NOIDA, Lucknow and Allahabad. For an itinerant journalist, this is helpful. I call up one of them. It was like having touched a beehive. They were agitated. They insisted I stop at the magistrate's office for a meeting with them.
In the five months that Nagpal has been riding the tiger in the area, she must have worked very hard to have united the lawyers against her. My experience of lawyers in UP's cities and towns has been uniform: they are mostly upper caste and inclined towards the BJP. But here the Sharmas and the Vermas were screaming themselves hoarse about the upper caste "SDM's arrogance", her "threatening manner", use of "foul language", a sort of unrestrained assertiveness. This is the universal image of the officer who has dominated headlines these past two weeks. What underpins this image is probably her inexperience.
Quite as uniform is another, more positive image of her: she is a "firm" officer. I did not meet a single person who was not supportive of her campaign against the "sand mafia". What Nagpal appears not to have realized is that mafias of any kind do not exist in a vacuum. They have political clout underpinned by mutual profit - for themselves and for the political party in power in, say, Lucknow.