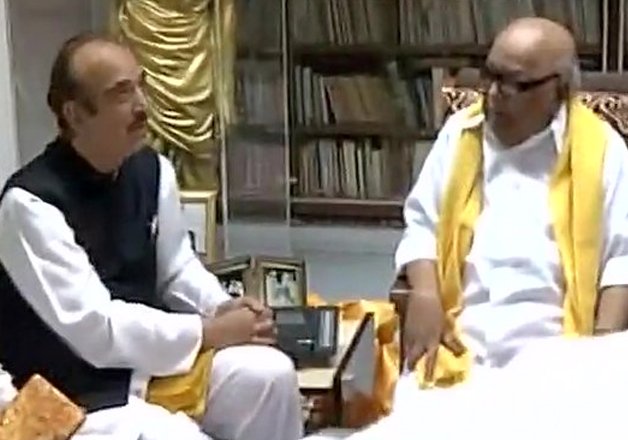 Chennai: The Congress and DMK today announced reviving an alliance three years after the two parties had parted ways on a bitter note.
The two parties have entered into an agreement to face the coming Tamil Nadu Assembly polls, senior Congress leader and Leader of the Opposition in Rajya Sabha Ghulam Nabi Azad said. The decision was taken after Azad met DMK president M Karunanidhi at his residence in Chennai.
Describing DMK as 'the most dependable partner', Azad said seat sharing and being part of the DMK led government were not a priority now and that the main goal was to ensure that DMK comes to power.
He said that the election would be fought under the DMK leadership and put on Karunanidhi's party the responsibility of roping in more constituents into this alliance, including DMDK.
As to what had changed between 2016 and 2013 when DMK snapped ties accusing the Congress of betraying Sri Lankan Tamils, Azad said that there were "compulsions and pressures" in politics and that the two parties had won elections together in the past also.
The DMK-Congress split had also come against the backdrop of the arrests of former Union Minister A Raja and Karunanidhi's daughter Kanimozhi, a Rajya Sabha MP, in the alleged spectrum allocation scam.
Congress had contested the last Lok Sabha elections on its own and had drawn a blank. It had contested the last Assembly elections along with DMK but secured just five seats. Assembly strength in the state is 234.
Congress is out of power in the key southern state for nearly five decades and has generally been aligning with either of the Dravidian party- DMK or AIADMK. It has contested alone too but without much success.
With PTI Inputs