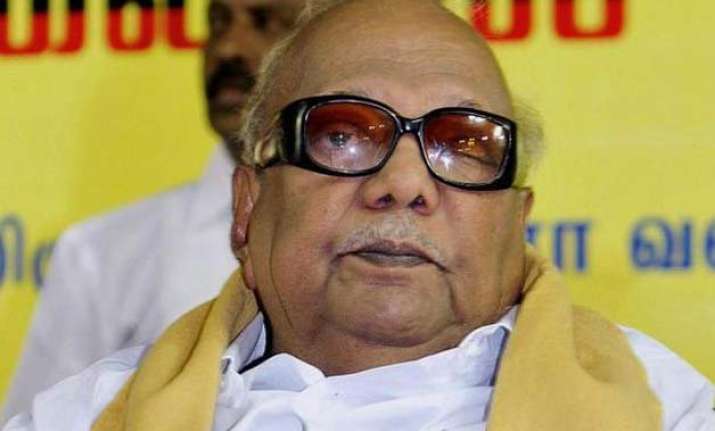 Chennai:  DMK President M Karunanidhi today strongly condemned the alleged attack on students of a college here who were agitating seeking prohibition and said if the government had clearly conveyed its stand on the matter, such a "turmoil" would not have taken place.  
"Students did not make any big crime for making an agitation. They had only requested the government for implementing prohibition. If the government had conveyed its stand, I think, such a turmoil would not have taken place," Karunanidhi told reporters here.
As anti-liquor protests continued for the third day across Tamil Nadu, students of a private college along with volunteers of a students' outfit staged a protest seeking closure of a liquor outlet and total prohibition.  
The agitation turned violent when some unidentified men ransacked the outlet and damaged stocks of alcoholic beverages there.
Asked whether DMK would take part in the dawn-to-dusk bandh called by a section of parties tomorrow, he said, "we will think about it, if the parties which are conducting it seek our support."
To a query about reports of some councillors belonging to DMK were owners of breweries, he said, "criticisers will be criticising only. Our appeal is for prohibition which includes everyone."
On a question about whether the government was remaining a mute spectator in the agitation conducted across state seeking prohibition, he said, "considering the crackdown of police officials on students, we cannot say they (government) are maintaining silence."
On a query whether DMK would ask other opposition parties to take part in the state-wide stir planned for August 10, he said, "such a proposal was not there. If they (political parities) themselves come on their own (to take part in the stir), we will welcome it."
Asked about reports of PMK Founder Ramadoss's statement that his party would not join with any Dravidian parties in future, Karunanidhi said, "He (Ramadoss) has promised that his party will not form an alliance with Dravidian parties.  There is no meaning to such promises made by him. Often he has made such statements. How far he is going to maintain this stand will be seen in future."
On whether his party was ready for next year elections, he said, "we are ready for it."