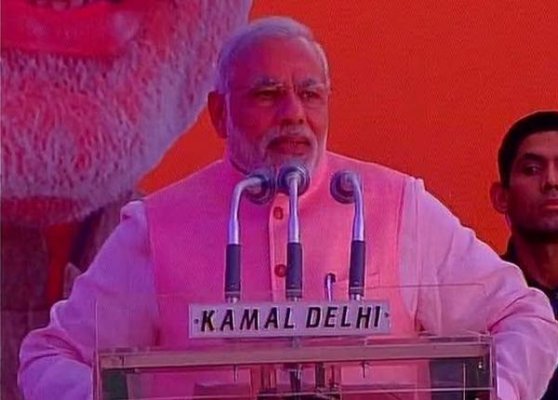 New Delhi: Addressing the journalists at the 'Diwali milan' function today, Prime Minister Narendra Modi said that it's great to see that scribes have turned their pens into brooms.
"Aapne apni kalam ko hi jhaadu mei badal diya hai, main sochta hoon yeh bahut bada kaam hai," Modi said.
Thanking the media for the extensive coverage of cleanliness issues in India, Modi said, "In last one month, I have read several articles on 'Swachta', a lot is being discussed in social media too. I believe there are several columnists who have written for years but are writing on 'Swachta' for first time, a great service to nation."
"Media can play a vital role in bringing change in the mindset," Modi added.
The Prime Minister was addressing the gathering of journalists at 9, Ashoka Road, adjacent to the BJP's headquarters in central Delhi.
Modi arrived here on the invitation of party chief Amit Shah to attend the 'Diwali milan'.
He was received by Shah at the entrance of the venue from where the latter escorted the Prime Minister to the dais directly.
Modi also extended greetings of Bhai Dooj and Gujarati New Year to the journalists on this occasion.
Scores of senior journalists including India TV chairman and Editor-in-chief Rajat Sharma and senior BJP leaders including Rajnath Singh, Sushma Swarj, Arun Jaitley were among others who are attended the meet.
BJP Parliamentary Board members were also present.