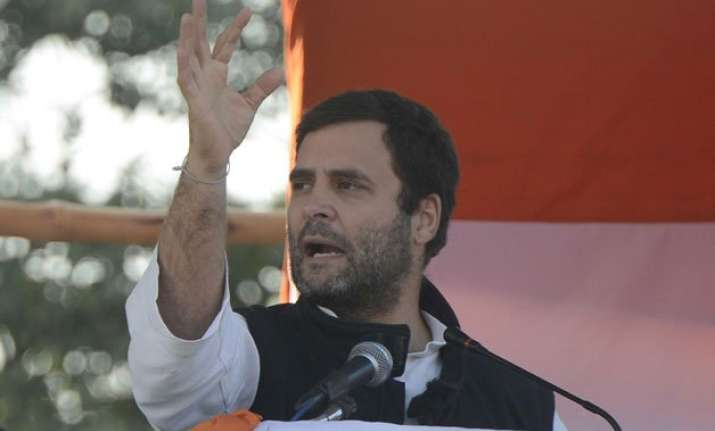 New Delhi: Dissent in the Congress over party vice-president Rahu Gandhi's possible elevation as president has taken a new turn with more voices emerging condemning the demand by a section of party leaders.
Former Union Minister and senior party leader Ashwani Kumar yesterday described suggestion by some Congress leaders 'utterly distasteful'.
"The demand of Sonia Gandhi taking a back seat doesn't serve the best interests of the party," he said.
He, however, also said that timing of Rahul's elevation should be left to the Congress president.
"The timing of the Rahul Gandhi taking over as president of the party should be best left to the judgment of the Congress president. She provided outstanding leadership in difficult times," he opined.
Another former minister, KV Thomas, too voiced the same thought. "Sonia Gandhi is leading the party very well and is able provide an effective leadership," he said.
"All of us have to stand behind Sonia Gandhi and help the party to reconnect with the people and launch people's programmes and agitations," he added.
Leaders like Ahmed Patel, Janardan Dwivedi, Ambika Soni, Ghulam Nabi Azad, Motilal Vora, Mohan Prakash, Shakeel Ahmad and Mukul Wasnik could be sidelined when a new team by Rahul is formed.
On the other hand, Jairam Ramesh, considered close to Rahul, said that the latter is ready for a 'greater responsibility'.
"I have no doubt that Rahul is ready for a greater responsibility. Rahul projected in the media is very different from the leader he is in the party," the former union said.
Many congress leaders have been demanding to give more power to the vice-president and that was only possible if he was promoted to the president's post.
Reports have emerged that Sonia has finally agreed to pass the baton of presidency to his son and the announcement will be made in the next session of AICC meet that is to be held in April.
Sonia Gandhi's tenure as the president will end in September.