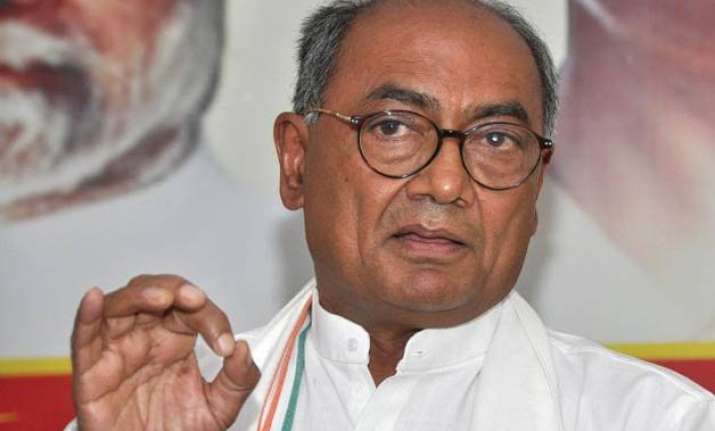 Bhopal: Congress general secretary Divijay Singh today criticised AAP for the farmer suicide during the party rally in Delhi yesterday, calling party convener Arvind Kejriwal "insensitive".
"Neither the AAP cadre nor police came forward to rescue him. It was very shocking to me that Kejriwal remained so insensitive that he went ahead with the rally. What has happened at the rally was very unfortunate," Singh told reporters here.
He said it seemed that the man was made to climb the tree to create "nautanki" (show) as AAP workers were indulging in sloganeering and clapping during the entire protest.  To a poser, Singh said Kejirwal too was a "megalomaniac like Prime Minister Narendra Modi."
Reacting to MP Chief Minister Shivraj Singh Chauhan's recent statement to a daily that Mahatma Gandhi National Rural Employment Guarantee Act (MNREGA) of the UPA was "one of the best programmes in independent India", Singh said that BJP's ideological mentor RSS might have pushed the Chief Minister to comment so because of his "pro-farmer" image.  "RSS might have prompted Shivraj ji to praise MNREGA, given that Modi's image now stands as pro-corporate," Singh said.
He said RSS wants to boost Chouhan now as he has the "pro-poor, pro-farmer" image as Modi has lost his sheen due to his "pro-corporate" image.
On the contrary Modi has been vocal against MNREGA, he said.
In his reply to the discussion on motion of thanks on the President's address in Parliament on February 27, Modi had said, "My political acumen tells me that MNREGA should not be shut down. I will not make such a mistake because MNREGA is a living monument of your (UPA's) failure."