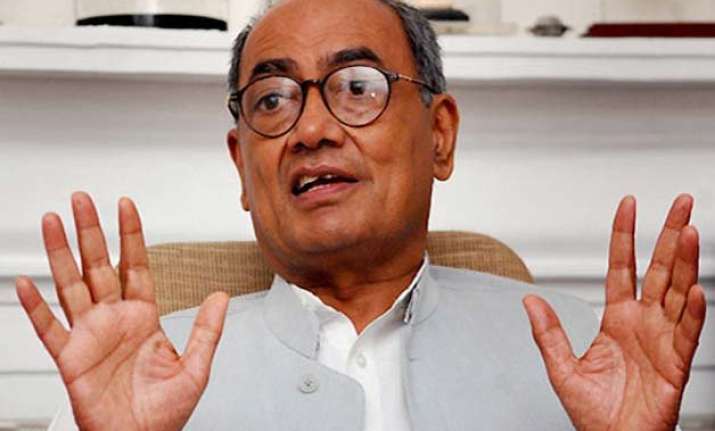 New Delhi: Congress general secretary Digvijay Singh has claimed that he is a better Hindu than Prime Minister Narendra Modi.  
"I don't consider anyone a better Hindu than me. I am a better Hindu than Modiji. I observe Ekadashi and Navratri fasts. I worship every day. I am a better Hindu", said Singh in an interview to Prabhu Chawla for a Hindu news channel.
He was replying to a question related to religious conversion. He was asked whether Hindus were converting people in his state Madhya Pradesh, where Congress had passed an anti-conversion law.
Singh replied: "If the conversions happen from Hindus to Muslims, it is called 'conversion' and if it happens from Muslims to Hindus it is called 'ghar waapsi'. Why?"
When the interviewer told him that he and his party were getting trapped because of this, Singh replied: "They are not trapping Congress. They are trapping the entire country. We want to tell people that they haven't won on the development issue. They have won on the name of Hindutva."
On the issue of illegal migrants in Assam, the Congress leader said it was a myth to say that Bangladeshi illegal migrants have changed the demographic profile of Assam's districts.
Singh described as faulty a High Court judgement which had put restriction on illegal immigrants in Assam. "Look at the demographic profile of Assam. there are Hindu illegal migrants also, The border is porous. There are both Muslim and Hindu illegal migrants."
Asked why migrant refugees from Pakistan in Kashmir have not been give the right to vote in the state assembly, Singh said: "They should be given the right. There is a process. If anyone wants citizenship, he has to undergo a process. Any refugee from Pakistan to India or Bangladesh to India has to undergo a legal procedure."
The interviewer then pointed out that the Hindus who migrated to Kashmir have the right to vote in the Lok Sabha polls, but not in the assembly polls, and J&K was the first state.
To this, Singh replied: "I am not a lawyer. I have no knowledge of this issue. But there should be a legal solution to the issue. I know about Assam because I had been in-charge. Modiji has now come. Remove Article 370."