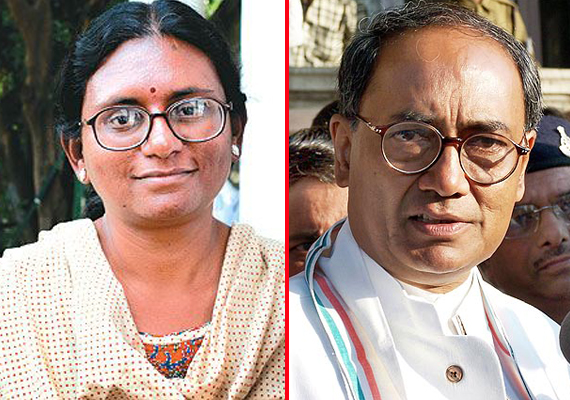 New Delhi, Jul 27: Controversial Congress leader Digvijay Singh got into trouble over certain remarks that he made against his party colleague and Rahul Gandhi's close aide Meenakshi Natarajan.
Digvijaya while praising the young leaders's popularity and ability to connect with the masses called her a "100 tunch maal"
Translated from Bhojpuri, the remark roughly means '100 percent sexy woman'.
Singh also said that he knew this because 'main purana johari hoon' (am an experienced jeweller).
Natarajan chose not to react to the remark and refused to comment on it.
"His statement has to be looked at in complete perspective. He has appreciated my work. I am not offended with
Digvijaya Singh
's statement", Natarajan said.
Congress leaders jumped to Digvijay's rescue and said that he was actually referring to Ms Natrajan as 'pure gold'.
Reacting to Digvijay's statement, BJP leader Vinay Katiyar said, "though it is an internal matter of the Congress party I maintain that Digvijay Singh is not in a stable state of mind. He has become a mental case. He urgently needs to be admitted to a hospital where he can be cured immediately."
"If the Congress cannot send him to a mental hospital, we urge them to tell us and we will fund his expenses. But he needs to be admitted immediately", he added.
BJP spokesperson Meenakshi Lekhi echoing similar sentiments said everybody in this country has now stopped taking Digvijay Singh seriously.
"Since yesterday, one has been watching a competition to mock and making ridiculous statements between the Congress spokespersons and various leaders. In this context, the copyright of Digvijay Singh has been lost and he is very upset about it and is continuing in this process of making silly statements," she added.