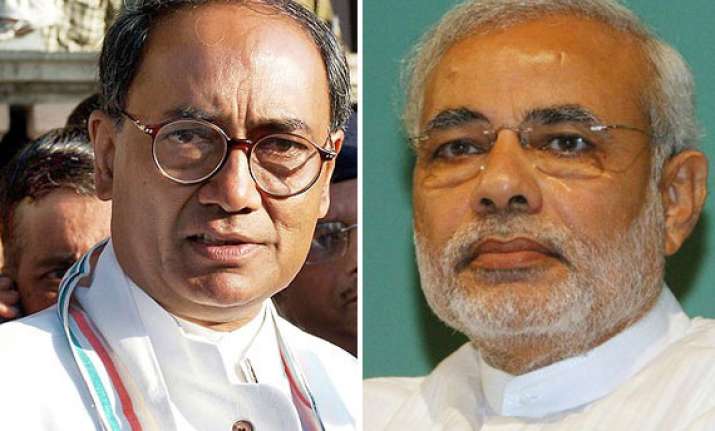 Kaithal (Haryana): Senior Congress leader Digvijay Singh today lashed out at BJP prime ministerial candidate Narendra Modi saying he was "telling blatant lies" and was ignorant of the country's history and geography.  Addressing an election meeting in Rajaund village here today while campaigning for Congress candidate from Kurukshetra Naveen Jindal, Digvijay said Modi's claim that Jawaharlal Nehru had not attended the funeral of Sardar Patel was a white lie.
"I have called his bluff by putting up pictures on social media showing Dr Rajendra Prasad and Jawaharlal Nehru attending Patel's funeral," he said, adding that Modi was ignorant of the country's history and geography.  The Congress leader also attacked Modi for contesting from Varanasi Lok Sabha seat, saying he had "chased away" veteran BJP leader and sitting MP Murli Manohar Joshi from there.  Pitching for Naveen, Digvijay said Jindal had rendered exemplary services to the people.
"Jindal served the people from within the Parliamaent as well as from outside," the former Madhya Pradesh chief minister said.
Digvijay also lavished praise on Naveen's father, late O P Jindal, saying he too had a zeal to serve the people.  "He had passed his legacy to his son who deserves a third term in the Lok Sabha," he said, appealing to the people to vote for Naveen.
Digvijay also said he was proud of the fact that the Congress had made a law to ensure food security for all.  He said it was Congress which had enacted schemes for the benefit of dailts and other poor sections of the society.  Speaking on the occasion, Naveen Jindal said he had always strived to serve the people of his constituency to the best of his ability and would continue to do so.