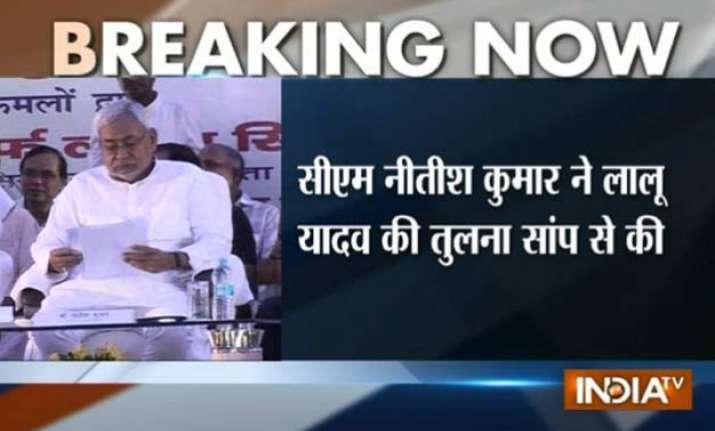 Patna: Despite joining hands to counter Bharatiya Janata Party-led National Democratic Alliance (NDA) in upcoming Bihar Assembly elections, the difference between the Nitish Kumar and Lalu Prasad has once again come in the public eye.
During a conversation on Twitter, Nitish, apparently, compared himself with `sandalwood' (chandan) and Lalu with 'snake'.
Replying to a follower Nitish tweeted, "Bihar's development is my sole agenda. (जो रहीम उत्तम प्रकृति, का करी सकत कुसंग| चन्दन विष व्यापत नहीं, लिपटे रहत भुजंग||)"
The solidarity shown by two reluctant partners is more of a compulsion than an alliance as both their parties lost badly in last year's Lok Sabha elections, in which BJP won out of 40 seats in Bihar.
Kumar wants a third consecutive term as Chief Minister.  
Lalu, who has led Bihar in the past, is unhappy with his former rival getting another shot at office, but cannot contest the election himself because he has been convicted in a corruption case.
Both the parties had to lick their wounds after being worsted by the BJP-led NDA in recently-concluded Legislative Council polls.
Kumar, however, later clarified that the tweet was aimed at BJP, not Lalu.
When Lalu was asked about this, he replied: "It must be BJP, Nitish would have talked about."
Assembly elections in Bihar will take place in September-October this year.