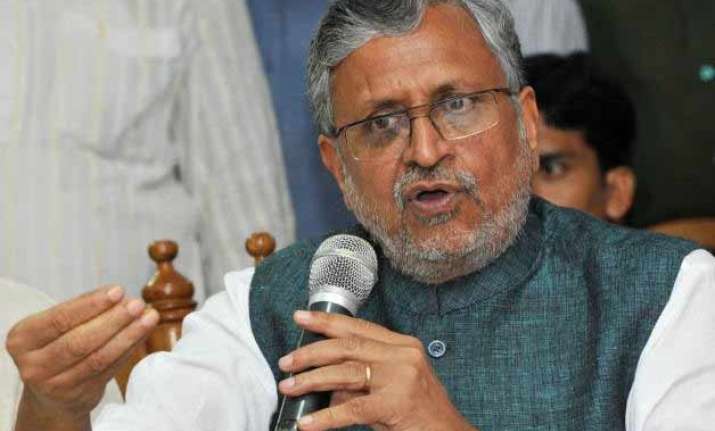 Patna:  Former Deputy Chief Minister and BJP leader Sushil Kumar Modi today urged the Bihar government to depute senior IAS and IPS officers at Kathmandu to coordinate rescue and relief work for those from Bihar stranded at different places in quake-hit Nepal.  
"Other states have rushed top officials to Nepal to coordinate rescue and relief work for the stranded people of their states ... the Bihar government too should follow suit and station its senior IAS and IPS officials in Kathmandu to coordinate relief measures and evacuation of the stranded people from Bihar," he told reporters at Patna airport.  
Sushil urged the state government to send more buses to different places in Nepal for evacuation of people and rued that only 43 buses have been sent to Pokhara and Kathmandu so far as against 150 vehicles rushed by Uttar Pradesh.
The BJP leader also criticised the alleged bid by Chief Minister Nitish Kumar to pressurise the 13th battalion of SSB to disband its relief camps so that only those run by the state government could function at Raxaul and said any number of relief camps could operate simultaneously given the enormity of the task at hand.
Identifying things like tents, potable water, blankets and instant noodles among the main requirements in the neighbouring country, Sushil urged NGOs, humanitarian agencies and the people in general to contribute generously to raise substantial relief material for distribution among the quake-ravaged people.
The senior BJP leader called for coordinated relief efforts by the Centre and the state government for the affected people in Bihar as well as in Nepal.  Sushil Modi along with the Leader of Opposition in the Assembly Nandkishore Yadav had accompanied the visiting Union Ministers in inspecting relief measures at SSB camps in Raxaul.