Follow us on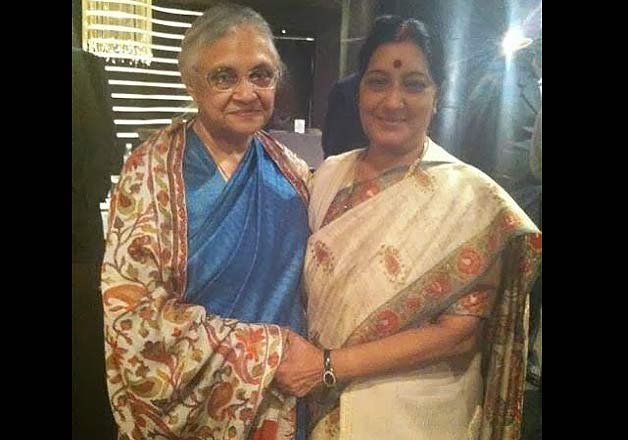 New Delhi: BJP's chief ministerial candidate Kiran Bedi may have declined Arvind Kejriwal's proposal for a face-to-face 'public debate' but at least on two occasions in the past, CM candidates had participated in open debates before Assembly elections in Delhi. Interestingly, former Chief Minister Sheila Dikshit was part of both the debates.
The first instance when such a debate took place was in the year 1998 just before the assembly election at Kamani Auditorium in Mandi House. The participants were Sushma Swaraj from BJP who was the then incumbent CM and Shiela Dixit,who was the president of Congress state unit in Delhi.
Sushma Swaraj was made the CM of Delhi just a month before the elections and Delhi was facing the problem of poor law and order and the ruling party had no answer. During the debate Sushma had said that she will improve the working culture of Delhi police once she comes to power again in Delhi.
Shiela Dixit was quick to ridicule Swaraj stating that Delhi Police does not come under the purview of Delhi government. Later Sushma Swaraj had to face a lot of criticism for the comment and BJP also lost the state assembly elections.
The second instance of public debate  in 2003 also involved Shiela Dixit who was the CM of Delhi that time. At India Habitat centre that year,  Shiela Dixit was challenged by BJP's  Madan Lal Khurana. Shiela Dixit accepts the fact that Mr Khurana came well prepared for the debate and was trying to highlight various works done under his regime.
That time Shiela Dixit replied that the works which were already done or completed needs no debate, Shiela just asked Madan Lala Khuran on what is his future course of plan for Delhi to which Madan Lal could not respond properly.  After these two open debates,  there were efforts in 2008 and 2013 as well to bring the CM candidates of various parties on a single for an open debate but it could not materialize.