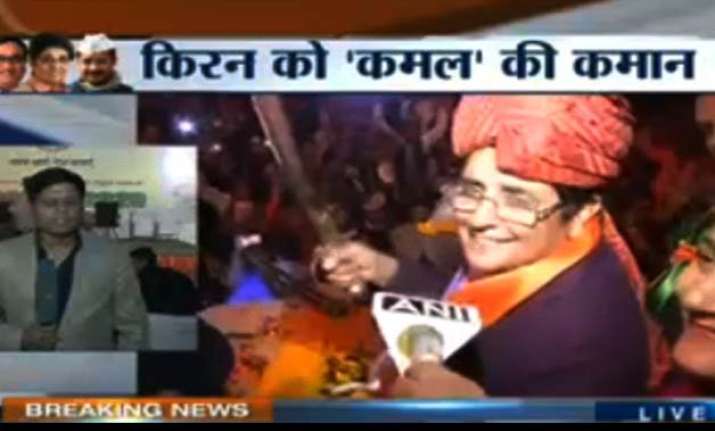 New Delhi: The BJP has finally announced that former IPS officer Kiran Bedi will be the party's CM candidate in upcoming Delhi Assembly elections.
The announcement was made by BJP'a national President Amit Shah in a hurriedly called press conference tonight.
Making the announcement after a meeting of the BJP Parliamentary Board, party president Amit Shah said the decision of fielding 65-year-old Bedi was "unanimous".  He said BJP will contest the crucial polls for the 70-member Assembly under Bedi's leadership.  She will contest from the Krishna Nagar seat in East Delhi, considered a BJP stronghold.
The announcement is a deviation from  the party's recent stand in Assembly elections in 4 states namely Maharashtra, Haryana, Jharkhand and Jammu and Kashmir where the party did not declare any CM candidate.
The Parliamentary Board meeting was attended by Prime Minister Narendra Modi, Home Minister Rajnath Singh, Finance Minister Arun Jaitley, External Affairs Minister Sushma Swaraj among others. Bedi, who joined the BJP on Friday, thanked the party forreposing faith in her.
"I had already expressed my readiness to contest from any seat. The entire Delhi is close to my heart. We will develop a good Delhi," she said.  Asked about voices of dissent over Bedi spearheading the party's poll campaign in the national capital, Shah said there was no resentment and everone was working as one team to ensure BJP's victory.
BJP's Delhi leaders including Jagdish Mukhi had earlier expressed reservation over Bedi being inducted without them being consulted while another leader Manoj Tewari too had made known his discontent but both leaders later toed the party line.
Shah said BJP will contest the Delhi elections with its ally Shiromani Akali Dal.
Earlier, Bedi described BJP as an "amazing and organised" party while dismissing as "exaggerated" reports of brewing resentment within it over her being projected as the party's CM candidate.
Bedi, who was the country's first woman IPS officer, claimed BJP workers are happy and united over her induction in the party and likened the comments against her to as differing voices in a family.
"It's all exaggerated. I am an insider now. They (party workers) are very happy. They are very united. You can have a voice even in a family here and there. Party workers are happy, enthused and united," she said.