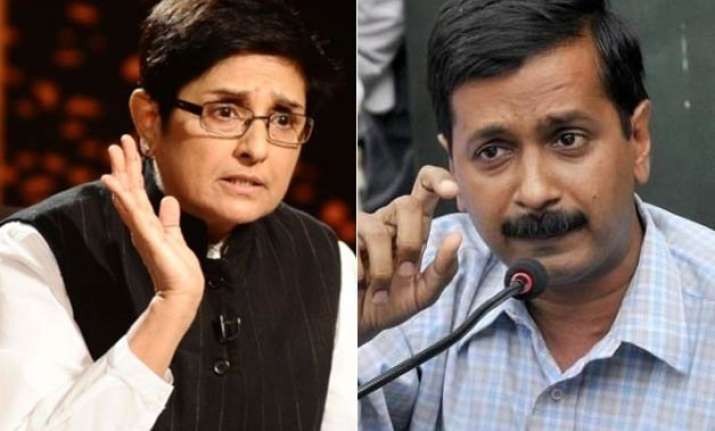 New Delhi: Kiran Bedi, BJP's chief ministerial candidate in Delhi Assembly elections, has accepted the challenge thrown by AAP chief Arvind Kejriwal for a public debate.
She said, "I accept the challenge, will do it in the assembly. Arvind believes only in debates whereas I believe in delivery of services. I will debate with him on the floor of the House," she added.
A day after the BJP named the former top cop as party's chief ministerial candidate in Delhi, former CM Kejriwal today morning challenged her for a public debate.
The AAP leader said, "It will be a good initiative for democracy if there is a debate between us on different issues. People vote in the name of religion and caste...they are not aware of issues. The debate, around 1-2 hours long should be on concrete issues."
Kejriwal, known for his active social media presence, also requested Bedi to unblock him in on microblogging site twitter.
He tweeted, "@thekiranbedi Kiranji, I used to follow u on twitter. Now, u have blocked me on twitter. Kindly unblock me."
Terming Kejriwal's twitter account as a 'polluting' one, Bedi hit back at Kejriwal, saying that she blocked him more than a year ago as he was 'spreading negativity'.
"I blocked him 15 months back when he called himself an anarchist. He was spreading negativity. Didn't want my four million followers to see negativity... it was a polluting account," Bedi said.
65-year-old Bedi, the country's first woman IPS officer, was named the BJP's chief ministerial candidate by party president Amit Shah after a meeting of the BJP's Parliamentary Board.
Bedi will contest from the Krishna Nagar seat in East Delhi, considered a BJP stronghold.