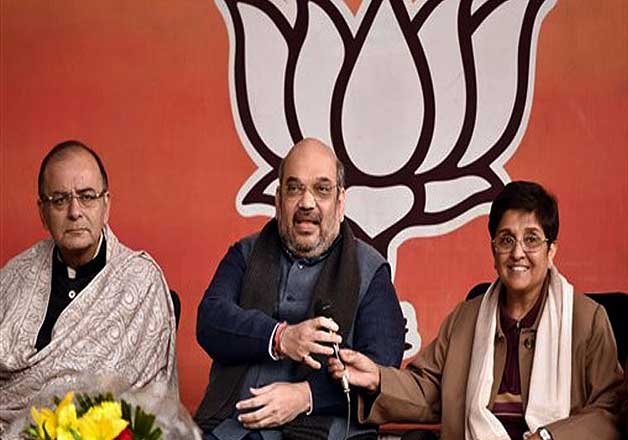 New Delhi:  Bhartiya Janata Party (BJP) has decided to engage its top leadership and ministers from the central government as the campaigning for the Delhi assembly elections is entering its final phase.  This decision was taken by the topmost strategist of the party Amit Shah and Arun Jaitley.
 
BJP's national president Amit Shah has decided to take the complete control of the elections in his own hands.  The election pundits felt that the latest decision was taken in the wake of opinion polls showing that Arvind Kejriwal led Aam Aadmi Party (AAP) is still having a good amount of popularity in spite of inducting  new fresh faces in the party which includes BJP's Chief ministerial candidate Dr Kiran Bedi.
 
All the major decision in the final stage campaigning for the Delhi assembly elections will now be taken from BJP's central office at Ashoka Road and not from local headquarter at Pandit Pant Marg.
 
The party has decided to micromanage the whole Delhi assembly elections in fourteen districts.
Amit Shah has assigned most of the ground level co-ordination with cadre and booth-level workers to his own team of dedicated RSS men and people from other states said a BJP leader.
 
Finance minister and senior BJP leader Arun Jaitley will spend atleast two hours on a daily basis at the party's office looking after the campaigning and also strategy formation.
 
Shah's Delhi team includes aides and trusted strategists from outside Delhi who worked with him in UP in Lok Sabha elections and in Jharkhand assembly elections – Vishnu Dutt Sharma, Rakesh Jain, Raghavendra, Raghunath Kulkarni, Sher Singh and Mahendra Pandey, all RSS men attached to various BJP state units.
 
With so many changes being made in the party in the last moment goes on to show that BJP seriously wants to win the battle of Delhi Assembly election  this time after it missed the majority mark in 2013.