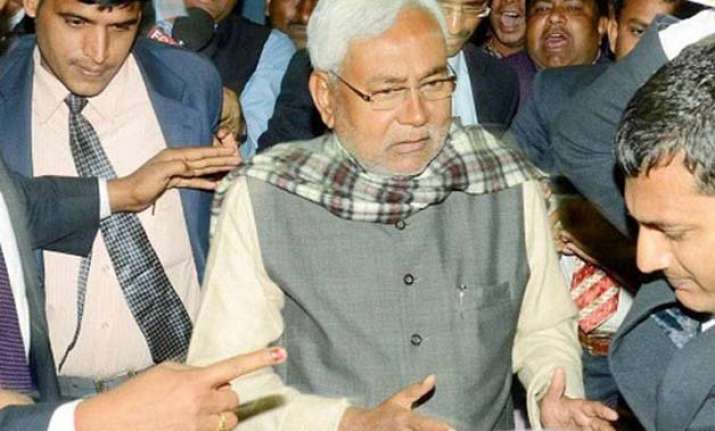 New Delhi: Aiming to put pressure on Bihar Governor Keshri Nath Tripathi to invite him to form the next government in the state, former chief minister Nitish Kumar today paraded 130 MLAs supporting him at Rashtrapati Bhavan.
The delegation also submitted a memorandum to the President demanding an end to the political limbo and invite Nitish to prove his majority on the floor of the House.
Yesterday, Nitish Kumar, along with 130 legislators of his Janata Dal-United (JD-U), the Rashtriya Janta Dal (RJD), the Congress and the Communist Party of India (CPI), Monday went to Bihar Raj Bhavan to show his strength.
Accusing Bihar Governor Keshari Nath Tripathi of delaying the process, Nitish Kumar said, "We have a majority and can form government."
We want action to be taken immediately, he added.
He also took attacked the Bharatiya Janata Party (BJP) saying that it was getting desperate.
"There are only five political parties in Bihar. Out of them four are on one side and the BJP stands alone. That is why it is getting desperate", he lashed out.
"Earlier they were blaming me for the government crisis. Now they want President's rule in the state. It's their game plan" he said.
Nitish also targeted Prime Minister Narendra Modi for "horsetrading".
This is not how democracy works, he said. PM Modi is horsetrading.
Nitish Kumar has accused Manjhi of trying to organise defections to stay in power.
"It appears that Manjhi has got a horse-trading licence after he met Modi in Delhi," he said, referring to the chief minister's meeting in Delhi Sunday with Prime Minister Narendra Modi.
Manjhi was hand-picked by the then chief minister Nitish Kumar as his replacement after quitting last year following the JD-U's rout in the Lok Sabha polls.
In the 243-member assembly, the JD-U has 115 legislators -- most of whom are reportedly with Nitish Kumar. It is backed by 24 legislators of the RJD, five of the Congress, two Independents and one from the CPI.
The Bharatiya Janata Party (BJP) has 88 legislators and is supported by three Independents.
 
In an apparent setback to Nitish Kumar, who is making a quick bid to become Bihar Chief Minister, the Patna High Court on Wednesday virtually stayed his recognition as the leader of the JD(U) Legislature Party in place of Chief Minister Jitan Ram Manjhi.
"We intend to examine the legal implication of the letter issued by in-charge Secretary of Assembly (recognising Nitish Kumar as leader of JD(U) Legislature Party) so that the letter should have no legal consequences for a decision by the Governor," a HC bench said in its order.
The court said it would hear the matter again on Wednesday next.
The division bench comprising Chief Justice L N Reddy and Justice Vikash Jain gave the direction on a PIL filed by JD(U) MLA Rajeshwar Raj, who is siding with Manjhi.