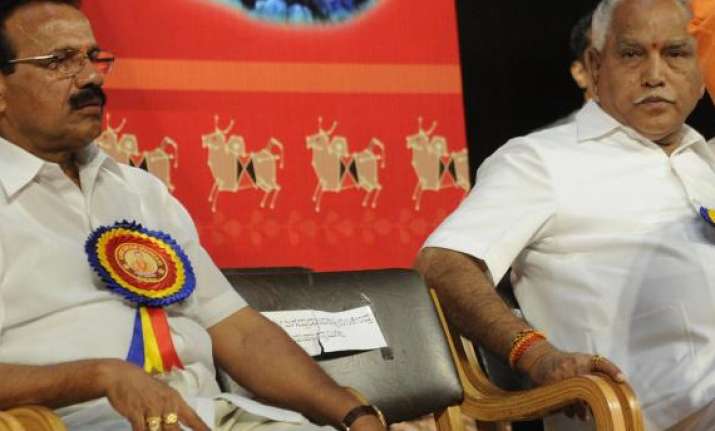 Bangalore, Jun 30: BJP central leadership today stepped in to resolve the fresh crisis in the party government in Karnataka after nine B S Yeddyurappa loyalist ministers resigned as the two warring factions continued to cross swords over the leadership issue.
With the fresh turmoil staring at its face, the central leadership deputed its emissary to resolve the crisis even as the state BJP ruled out accepting the resignations and the Yeddyurappa group intensified its attack on Chief Minister D V Sadananda Gowda accusing him of being influenced by opposition JDS and not taking his ministers into confidence.
The party's In-Charge of Karnataka affairs Dharmendra Pradhan held separate consultations with the Ministers who tendered their resignation last evening in the stepped up oust Gowda campaign and the leaders in the Chief Minister's camp.
"I have met all important leaders of Karnataka Bharatiya Janata Party", Pradhan told reporters after the meetings at the state party office here. "We are inching towards early solution... Everything will be settled within the party".
Pradhan later drove to Yeddyurappa's residence and held discussions with the state BJP strongman who after having failed to get reinstated as chief minister has been targeting Gowda, a loyalist-turned foe, seeking his removal and projecting  Minister Jagadish Shettar as the alternative.
Unfazed by the latest developments, Sadananda Gowda said:"Pradhan held discussions and said he will discuss with central leaders and definitely there will be a good decision".
His camp follower and Medical Education Minister A Ramdas said party's central leadership would take the call on the issue in consultation with key state leaders who have been invited to New Delhi.
State BJP President K S Eshwarappa asserted there would be no leadership change and expressed confidence of resolving the crisis.
The nine Ministers who quit stuck to their stand on Gowda's removal and sought to put him on the mat accusing him of running the administration on the diktat of the opposition JDS and trying to cut Yeddyurappa to size.
"The Chief Minister is mostly running the administration on the diktat of the JDS...," C M Udasi, one of the nine Ministers, told reporters.
Udasi said there was trust deficit between the Ministers and the Chief Minister and their relations had strained in the last three-four months.
The Chief Minister also sought to demonstrate his strength as he came to the party office to meet Pradhan with some 10 Ministers and a dozen MLAs, who opposed any change in his leadership.
"We have faced such crisis in the past and we have resolved them successfully. This time also, I am confident we will resolve the crisis", Gowda said.