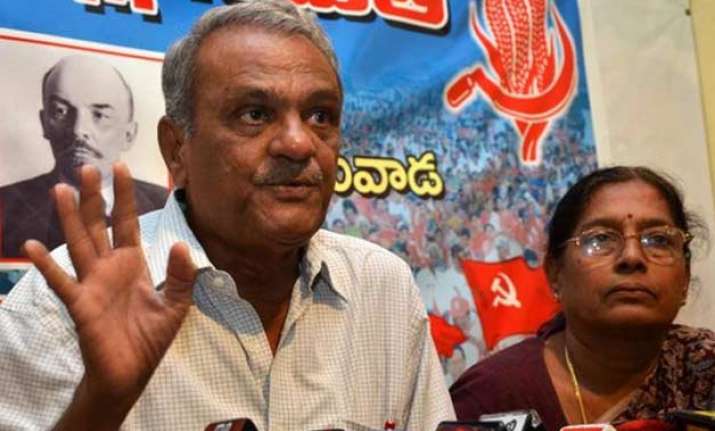 Puducherry: Amid a raging debate on the controversial land bill, CPI today urged President Pranab Mukherjee to raise legal objections and refrain from signing the Ordinance in case the BJP government seeks to re-promulgate it for the fourth time.
The Government has so far maintained that re-promulgation was necessary for maintaining the bill's continuity and providing a framework to compensate people whose land is acquired.
Congress, which has been opposing the new land bill brought by the Narendra Modi Government, had fiercely attacked it when the Ordinance was promulgated for the third time on May 31.
CPI National Secretary K Narayana said here that the President should raise legal objections if the government seeks to re-promulgate the ordinance.  "...land bill is a clear move to back the corporates affecting the poor farmers," he said.
CPI supported the all India Trade Unions general strike slated for September 2 to condemn the "anti-farmers and anti-labour" measures of the NDA government, he said.  The "highly objectionable" moves to amend the Trade Unions Act, Industrial Disputes Act and other labour legislations would be opposed "tooth and nail" through this strike, he said.
He demanded that the posts of Governors and Lt Governors be abolished.
"These posts are involving heavy expenditure for the government and were being used as rehabilitation centres for the political functionaries. The incumbents of these posts do not contribute anything useful and hence they should be abolished," he added.
Narayana also sought the resignation of External Affairs Minister Sushma Swaraj and the Rajasthan Chief Minister on the Lalit Modi issue. "The Chief Minister of Madhya Pradesh should also quit office on the Vyapam issue," he said.  CPI's Puducherry State committee secretary R Viswanathan said Puducherry government should bring in prohibition in a phased manner. "We should not contend that revenue to the exchequer would be hit as health of the people is more important than the coffers."
CPI national council member N Kalainathan said prohibition could not be imposed all of a sudden in Puducherry as the attempt made in 1977 by then Prime Minister Morarji Desai met with failure so far Puducherry was concerned.  Narayana was here to attend the Puducherry State CPI's executive committee meeting.