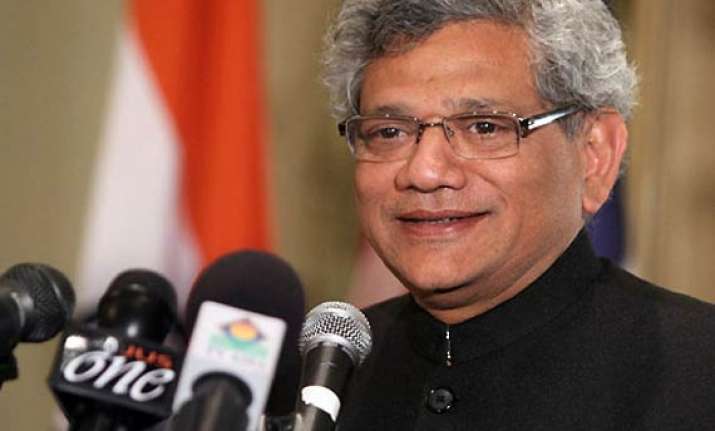 New Delhi, Nov 24: In a scathing attack on BJP, the CPI(M) today accused the main opposition of repeatedly entering into agreements with Congress to help the government "escape" a vote in Parliament on the issue of price rise.

"In the past three sessions, we have found that Congress and the main opposition party have come to some sort of an understanding repeatedly, bypassing the rest of Parliament and political parties," senior CPI(M) leader Sitaram Yechury told reporters here.

He said the two parties have been "acting in tandem to help the UPA government escape voting" on the issue of price rise and "that is how Parliament has been functioning for the last three sessions".

Referring to the disruption of parliamentary proceedings, he said, "Who stands to benefit? It suits the government not to have discussion on price rise and corruption....The main beneficiary of this is the government."

Yechury said in the seventh session of Lok Sabha, the Chair moved a resolution on price rise after the principle opposition party agreed to it. "The draft of this resolution was not shared with us (Left and other parties)," he said.

In the eighth session, Congress and BJP agreed on a common draft resolution on the same issue, which was moved by BJP leader Yashwant Sinha. "We voted against it saying the resolution was not adequate. We had also asked for a division by pressing an agreement," Yechury said.

"Now they have again come to an understanding with Congress by agreeing to a draft adjournment motion on black money, which is inadequate. It is to be moved by BJP.  And, as per procedures, only one adjournment motion can be taken up in one session. So our adjournment motion on price rise is not being taken up," he rued.

Yechury said the Left's adjournment notice on price rise was rejected by Lok Sabha Speaker Meira Kumar on grounds that it was "not of urgent importance as prices have been rising for the past three years. So our adjournment motion has been converted into a motion which does not entail voting.

"But urgency lies as unbearable burden is being put on the people...," he said, adding, "Our aim to have a debate followed by voting is to pressurise the government into taking concrete steps to check rising prices."

Yechury said he and his party leader in Lok Sabha Basudeb Acharia have once again moved motions on price rise issue under rules which entail voting.

On the issue of black money, Acharia said the BJP would raise the issue on an "agreed draft on the situation arising out of moneys illegally stashed in foreign banks and action against those responsible. It does not censure the government as a motion which entails voting should."

Maintaining that the CPI(M) would move a separate resolution on the issue on motions which entail voting, he said, "Our main thrust is that corruption is the prime cause of black money.

"We will demand bringing back the moneys stashed abroad, using them for people's welfare and action against culprits.  Even if their (BJP) motion is accepted, we can move amendments.

"Why is the government inactive on the issue. They have a list of 700 names of people who have stashed wealth abroad.

Why is it silent? Why is it not disclosing these names," Acharia asked.