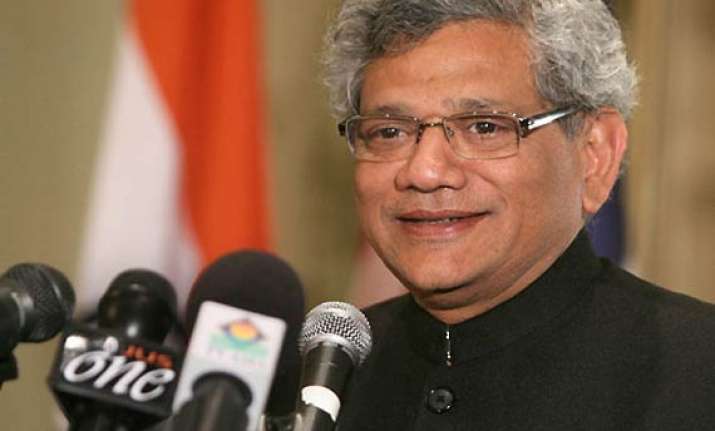 New Delhi, Dec 20: The CPI(M) today charged Congress and BJP with "coming to an agreement" on all reform measures, claiming the government was bringing the pension bill after being assured of support by the main opposition party. 

"It is very clear that the BJP and Congress have come to an agreement that in all economic reform measures, they will go together. This was evident in case of the insurance bill and now the pension bill is being brought on the basis of this understanding," senior CPI(M) leader Sitaram Yechury told reporters here.

This is the second time that CPI(M) alleged a "new found unity and cooperation" between Congress and opposition BJP over crucial economic issues.

Last week, it said the BJP's support would help the UPA government roll out 'neo-liberal' policy measures which would "disastrous" for the people.

On Trinamool Congress' support to the measure, he said, "This party always runs with the hare and hunts with the hound. On all anti-people economic reform measures, it unites with the government and on those which do not help them, it talks of opposition unity".

The Pension Fund Regulatory and Development Authority Bill, introduced in Lok Sabha in March and referred to the Standing Committee for consideration, is likely to be taken up by Parliament tomorrow. Among other things, it proposes 26 per cent foreign investment in the pension sector. 

Making CPI(M)'s opposition to the bill clear, Yechury said it would "snatch the right of an employee to pension. Pension is a right, not a voluntary contributory benefit. It will negate the right of the working people.

Despite the government accepting the demand of the Left regarding 'assured returns', the CPI(M) would oppose the measure and has moved amendments to it as the government has "failed" to project what the quantum of 'assured returns' to pension would be, CPI(M) leader Basudeb Acharia said. 

"The 'assured returns' should be 50 per cent of the last drawn salary. If a percentage of your pension is invested in the stock market, there is no guarantee that you will get an assured return on it. That is also not guaranteed by the government," he said.