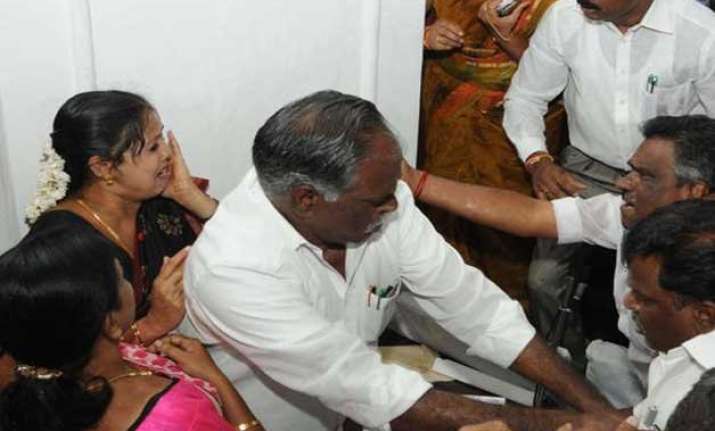 Pandemonium prevailed in the city Corporation Council meeting here on Thursday when ruling AIADMK and opposition DMK members clashed over corruption charges against their respective leaders Jayalalithaa and M. Karunanidhi.
Two women members — one each from the two parties — sustained bruises as the two sides exchanged heated words and blows, leading to free for all for about five minutes.
As the council assembled for the budget presentation, DMK's Meena Loganathan sporting 'namam', alleged that the AIADMK-ruled civic body had taken the people for a ride in the last three years without any development.
Seeing this, some AIADMK members raised a placard, which read that 2G (an indirect reference to former minister A. Raja and DMK) has put 'namam' on the people and Srirangam byelection result (which AIADMK won) was a fitting counter by the electorate. In the coming assembly polls, people will again put 'namam' to the opposition, it read.
At this, Ms. Meena wrote on a paper that a sitting chief minister was the first in the world to be convicted for 'mega' corruption, an apparent reference to Jayalalithaa's conviction in the wealth case.
Infuriated by this, AIADMK member Annamma started hitting Ms. Meena with a name board, leading to fisticuffs between her and Meena.
In the melee, both sustained bruises while the mangalsutra worn by Annamma snapped down, which led to exchange of words and blows between AIADMK and DMK members, leading to free for all for five minutes.
At this stage, Mayor P Rajkumar asked the Corporation PRO to clear away the media and photographers, amidst shouting by ruling party members that DMK members were indulging in such activities to gain "cheap publicity."
After the din, DMK members staged a walk out from the hall, even as Ms. Meena fainted near the steps.
Later, she was taken to the Government Hospital, where she was being treated, party sources said.