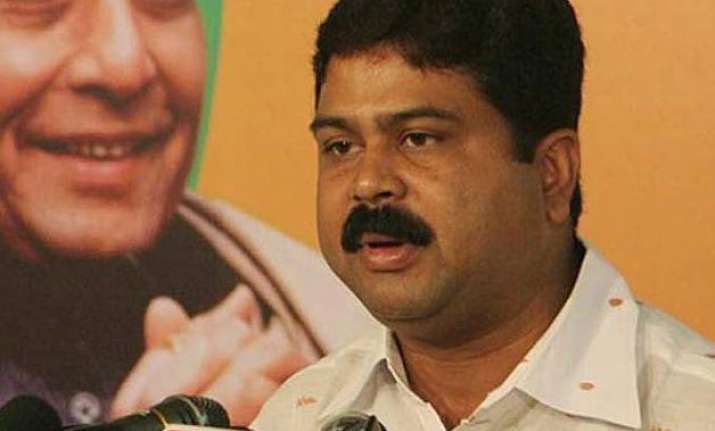 New Delhi:  Congress today demanded the sacking of Union Minister Dharmendra Pradhan, alleging that he received "payments" from the prime accused in Vyapam scam along with some other BJP and RSS leaders.
The party insisted that a fair probe was not possible without removal of Madhya Pradesh Chief Minister Shivraj Singh Chouhan and alleged that he had protected the guilty.
"Facts and documents in public domain now prove that Chouhan has misled on facts, protected the guilty, refused to take action against the accused and permitted Vyapam scam to happen year after year between 2009 to 2013 despite the lid having been blown in 2009 itself," Congress leaders Jairam Ramesh and Randeep Surjewala alleged at a press conference.
Giving a series of documents including information allegedly contained in a pen drive seized from prime accused Sudhir Sharma by the IT department, they alleged that besides Pradhan, the accused were making payments to Prabhat Jha, BJP National Vice President, his two sons, Suresh Soni, RSS Joint General Secretary and BJP MP Anil Dave.
"Prime Minister Narendra Modi is launching 'Skill India' but Madhya Pradesh witnessed 'kill India'," they said."Complicity of the entire BJP leadership with deep-rooted links to RSS in Vyapam scam is thus writ large.
The only alternative is a Supreme Court monitored CBI investigation after removing Chouhan," they said.
The refrain of Ramesh and Surjewala was that no independent, fair, free and impartial investigation can be done until Chouhan is removed as Chief Minister of Madhya Pradesh.
The Congress leaders also read out from the replies given by the Madhya Pradesh Chief Minister from time to time on the Vyapam scam to allege that he was the "kingpin" of the scam and not the whistleblower as he claims.
They alleged that Chouhan has protected the officials guilty of the gigantic fraud and corruption in ?Vyapam?. In a reply in the Assembly, the CM has clearly stated that while 114 candidates were found fake in ?Vyapam?, no administrative officer or employee is responsible for the fraud and corruption.
"Can any reasonable person believe that Vyapam fraud was happening on its own without complicity of any single employee or officer or protection of the political executive?," Surjewala asked.
Admittedly, 1,40,000 jobs were given through ?Vyapam? between 2008 and 2013, he said adding that Chouhan has himself admitted on the floor of Vidhan Sabha on in January 2014 that 1,000 appointments made through ?Vyapam? were fraudulent.
"It is a question about the future of 77 lakh students who appeared in the exams," they said.