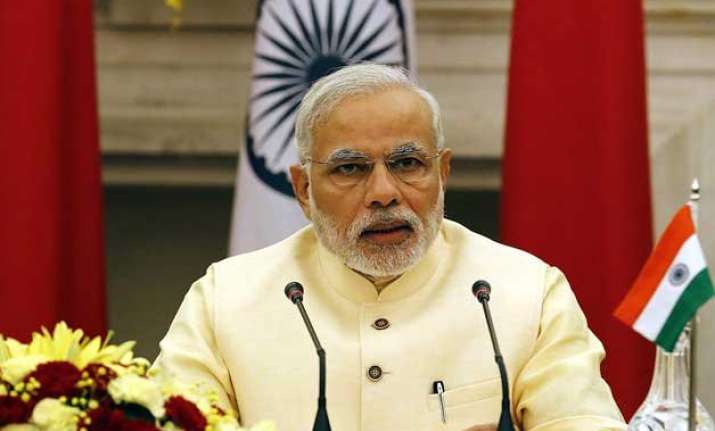 New Delhi: Taking a sarcastic jibe at the Narendra Modi government, the Congress party today said that the NDA was a 'thumbs-up' government which always 'wants to have a blast'. The comments came just ahead of the Make in India week programme in Mumbai.
Hitting out at Prime Minister Narendra Modi government for his indirect comment on their party at a public meeting in Coimbatore yesterday, Congress spokesperson Ajoy Kumar today replied saying Modi had acted more like a BJP leader and a "pracharak" than as Prime Minister since taking office.
Modi had yesterday targeted Congress saying that a "campaign of lies" has been let loose on the issue of Dalits under a "deliberate conspiracy" to disintegrate the country.
The Congress spokesperson also accused the PM of keeping his focus on attacking his political opponents instead of fulfilling the promises made to the people. "It is a Thumbs Up government. Everyday it wants to have a blast (Kuch toofani ho jaye)," Ajoy Kumar told reporters, taking a dig at what he termed as the government's "penchant for event management".
He said the Digital India campaign was launched with much fanfare but its ambitious outlay was halved "within no time" and now only one fifth of the amount originally estimated has been set aside for the scheme.
"They just want to do event management each time. They have a penchant for it," he said.
He also rejected the Prime Minister's accusation of Congress letting loose a "campaign of lies" on the issue of dalits. Kumar said remarks by Lok Sabha Speaker Sumitra Mahajan and some other BJP leaders on the issue of reservation were "not conducive" to spreading harmony in the society.
In Coimbatore in Tamil Nadu yesterday, the Prime Minister had ruled out scrapping reservation and made a veiled attack on Congress for its "campaign of lies".
"Earlier they tried to instigate farmers. That did not succeed so now in the name of Dalits, lies are being spread. Wherever they go, whenever they go, they utter lies. They repeat the lies on top of their voice. A campaign of lies has been let loose to mislead and fool dalits." Modi had said.
(With PTI inputs)