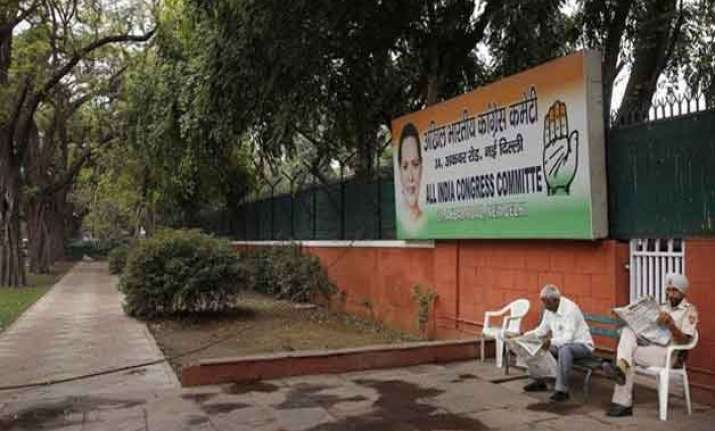 New Delhi: Ahead of the Budget session of Parliament beginning Monday, Congress today declared that it would oppose the Bills meant to replace the ordinances contending that the changes brought about in the relevant laws are "not acceptable" to it.
"It is very clear that the changes through the ordinances are not acceptable to us. Obviously we are going to oppose... they are not in the interest of people," party spokesman Ajoy Kumar told reporters in reply to a volley of questions on the issue.
Kumar noted that the party line has already been made clear by senior leader Ahmed Patel who said it would be "bizarre" for the Narendra Modi dispensation to expect support from the party after it has diluted UPA's policies and programmes.
"It will be bizarre for govt to be expecting support from Congress after it has diluted UPA's policies & programmes for needy," Patel, Political Secretary to Congress President Sonia Gandhi, said on micro-blogging site Twitter.
The statement is significant as it comes just three days ahead of the Parliament's Budget session in which the government has lined up a number of bills for consideration and passage including controversial amendments to land acquisition law.
Replying to a question, he said the Congress would demand that the government accommodate its concerns.
The Narendra Modi government is trying to reach out to opposition parties for ensuring passage of several pending bills.
The government has called an all-party meeting on Sunday at 12:30 PM which will be attended by the Prime Minister.
The session will see a push by the government for passage of the bills that will replace six ordinances promulgated since the last sitting of parliament. The government has given varied reasons for the ordinances including the need for deepening the reform process in the economy.
An ordinance must be replaced by a law within six weeks of the re-assembly of the two Houses for it not to lapse.
The land acquisition ordinance has become the most controversial with several opposition parties including the Congress, Left, JD-U, RJD declaring their stiff opposition.
Congress is staging a dharna on the issue at Jantar Mantar here on February 25, soon after a similar protest  by Anna Hazare there.
While the Bharatiya Janata Party (BJP)-led National Democratic Alliance (NDA) has a majority in the Lok Sabha, it is outnumbered in the Rajya Sabha. The NDA has only 57 members on its side in the House with a total strength of 245 MPs.