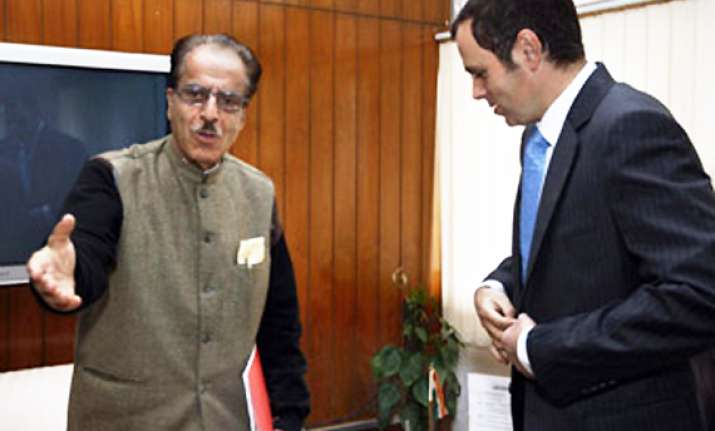 Srinagar, Oct 27: Chief Minister  Omar Abdullah's move to revoke AFSPA from some areas of Jammu and Kashmir was today questioned by Congress leader Saif-ud-din Soz who said all stakeholders including the Army should have been consulted, inviting a terse response from Omar  who said he is well aware of his responsibilities.

Soz, the Preadesh Congress chief, said the Chief Minister was trying to score a political "goal" by revoking the Armed Forces Special Powers Act from some areas and not taking anyone on board.

"As Chief Minister,I am well aware of my responsibilities of consultation and carrying my alliance partners with me," Omar responded.

A different line was taken by Taj Mohiuddin, senior Congress leader and Cabinet minister in the Omar government, who contended that he was consulted by the Chief Minister on the issue.

He, however, said the feasibility of revoking AFSPA should be decided jointly by the Army, intelligence agencies and the state police.

"I have no grouse at not being consulted by the Chief Minister. He could have even sought my opinion over phone...  However, the main players like Union Home Ministry, Defence Ministry, Congress party and Army should be taken on board on the issue. It does not seem to be the case at the moment," Soz told PTI.

Referring to allegations of lack of consultation with Congress, which is a junior partner in the state government, Soz said it seems that Omar wants to "score a goal by himself but that is not how the game is played".

Refuting the charge, Omar said consultations at various levels with Army have taken place and continues to take place.  "Formal discussion in the Unified Command, of which the Deputy Chief Minister (Tara Chand of Congress) is also a member, has also taken place from time to time," he said. 

Soz said the Chief Minister would have been on a sure footing if he had held prior consultations with the stakeholders on the issue of revoking AFSPA. 

Omar countered his statement saying that if the coordination committee, which oversees functioning of the National Conference-Congress coalition in the state, wishes to discuss the idea of AFSPA issue, then as the head of panel, "Mr Soz is well within his rights to call a meeting and dicuss it. I am not a member and, therefore, its not for me to bring this issue there.

"Soz Saheb chairs the coordination committee. If the coordination committee has any inputs, they are welcome to share those with me," the Chief Minister said.  Asked if Congress was averse to revoking the law, Soz said "AFSPA and Disturbed Areas Act are not permanent and have to go one day but it has to be a decision by consensus". 

In response to a question, he said there was no truth in suggestions that state Congress unit was trying to destabilize the Omar government which is about to complete three years in office.

Mohiuddin said Congress is not averse to revoking AFSPA. "If local police, army and intelligence agencies say it is feasible and possible to revoke the act, Congress has no objection.

"Congress is not against the people but at the same time we cannot take any risks," he added. 

Meanwhile, CPI (M) State Secretary M Y Tarigami welcomed the proposal of revoking AFSPA and Disturbed Areas Act from certain areas of the State but cautioned against messing up issues of such public importance in avoidable political skirmishes.

Tarigami said given the improved security situation, CPI (M) has always been stressing for removal of these draconian laws. "Since there is marked improvement in the overall security situation in the state, time has come to revoke this law at least from certain areas at the first instance," he said.

Noting that steps like revocation of AFSPA shall ensure relief to the people of the state, Tarigami said such initiatives should not be perceived as any compromise with the overall security requirements.

"There is dire need to provide relief to people and any such move in that direction should not be discouraged or allowed to be consumed by political or security discourses," he added.