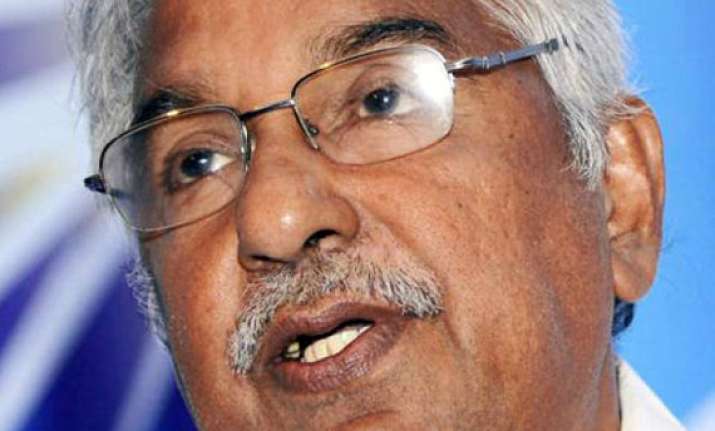 Thiruvananthapuram, July 11: The Congress party Thursday alleged that top leaders of the opposition Communist Party of India-Marxist in the state were involved in coercing a businessman to turn against Chief Minister Oommen Chandy.
Addressing reporters here, Congress vice-president M.M. Hassan said that top CPI-M leaders like Kodiyeri Balakrishnan, Thomas Issac and Elamaram Kareem (all former ministers, serving at present as legislators) played a role in pressuring Sreedharan Nair into dragging Chandy in the case popularly known as the "solar scam".
"We request the investigation team probing the solar scam case to see if the businessman was blackmailed by these leaders," Hassan said.
The scam occurred after a couple, Saritha Nair and her partner Biju Radhakrishnan, made promises to many people of the installation of solar panels at subsidised rates. When the panels were not delivered despite payments, large numbers of complaints were made to police by people who had invested money in the project, and the couple was arrested.
It was found that members of Chandy's personal staff were in touch with Saritha Nair. A prominent Malayalam TV actress, Shalu Menon, has also been arrested in the case for her close dealings with Biju Radhakrishnan.
Sreedharan Nair, a businessman, is now in the eye of the storm of controversy, as he claimed that he invested in the solar panel business only after Saritha Nair introduced him to Chandy, at the latter's office. Nair also claimed that Chandy had complimented him on his investment in the solar energy project.
"Sreedharan Nair, as has been seen in the past many days, has retracted (his statement) not once, but a few times. This is where we see the hands of these CPI-M leaders, who have pressurised him to tarnish the name of Chandy," Hassan said.
Ever since the arrest of Saritha Nair June 3, and the revelation, through her phone call details, that she had direct access to the Chief Minister's Office, Chandy has faced the ire of the opposition, which blames him of corrupt practices.
"As soon as the chief minister came to know of the involvement of his staff, he took action against three, of whom one is in jail. This is where the former home minister Kodiyeri Balakrishnan has failed -- his son was instrumental in seeing that even with 14 cases registered between 2006-11 (during the tenure of the Left government) against the con-couple, no action was taken," Hassan said, making a veiled allegation that Balakrishnan's son had links with the fraudsters.
Hassan also added that the Congress high command, state party and the ruling UDF alliance strongly backed Chandy because everyone knew of his unblemished track record in matters of integrity.