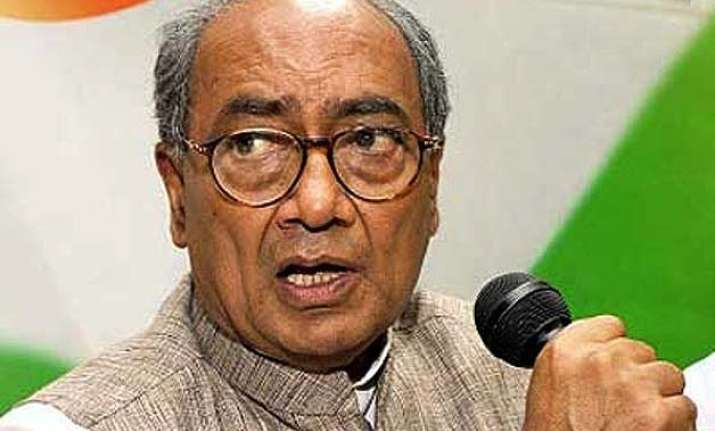 New Delhi:  Stoking a controversy, Congress leader Digvijay Singh today said the credibility of government and judiciary was at stake after the "urgency" shown in Yakub Memon's case while his party MP Shashi Tharoor questioned the efficacy of death sentence in serving as a deterrent.
Reacting sharply, BJP said such remarks were"irresponsible" and "unfortunate" as they seek to question the judicial process and demanded that the opposition party clear its stand on the issue.
After 1993 Mumbai serial blasts convict Yakub Memon was hanged in Nagpur jail this morning, Singh, in a series of tweets, said the government and judiciary should display the same "exemplary urgency and commitment" in all cases of terror irrespective of the religion of the accused.  
"Yakub Memon hanged. Exemplary urgency and commitment has been shown by Govt and Judiciary in punishing an accused of Terror. I hope similar commitment of Govt and Judiciary would be shown in all cases of terror irrespective of their caste creed and religion," he said.
"I have my doubts the way the cases of other Terror accused are being conducted. Let's see. Credibility of the Govt and Judiciary is at stake," Singh said.  The remarks came in the backdrop of allegations of slowing of probe in the 2008 Malegaon case, in which right wing Hindu elements were allegedly involved.  
Congress MP Shashi Tharoor said that he was "saddened" by the news that "our government has hanged a human being.  State-sponsored killing diminishes us all by reducing us to murderers too".
He, however, later added that he was not going into the merits of this case but was opposed "to the principle and practice of the death penalty in our country".  In his tweets, Tharoor raised questions over the efficacy of death penalty in acting as a deterrent. "There is no evidence that death penalty serves as a deterrent: to the contrary in fact. All it does is exact retribution: unworthy of a Govt."
The Kerala MP said while "we must fight against terrorism with all the means at our command but cold-blooded execution" has never prevented a terror attack anywhere.  He at the same time clarified that he was not commenting on the merits of a specific case saying it was for the Supreme Court to decide. "Problem is death penalty in principle & practice," he said.
The remarks by Singh and Tharoor evoked angry reactions from the BJP.BJP said Congress leaders remarks underlined the conflicting voices in the opposition party over the issue of terrorism. "He (Tharoor) is insulting the peace-loving people who want to get rid of terrorism," BJP secretary Shrikant Sharma said.
Union Minister Arun Jaitley said "irresponsible" statements by Congress leaders with regard Mumbai blast accused were a cause of concern. "We expect Sonia Gandhi to clarify before the nation," he said.