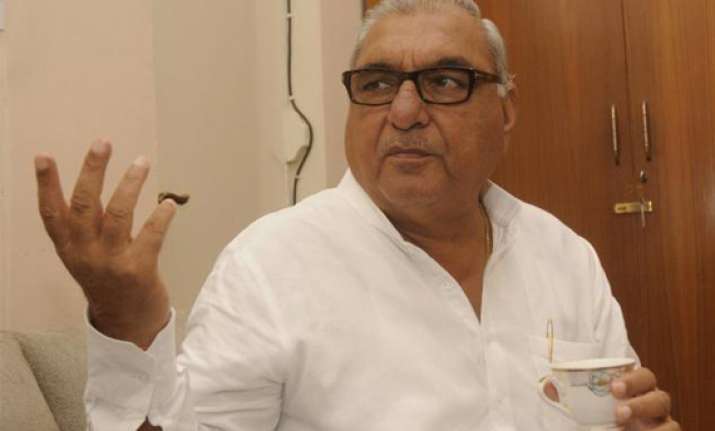 Chandigarh, Aug 9: In the absence of any formidable opposition leaders to challenge them these days, top Congress leaders in Haryana have put on their boxing gloves to spar with one another.
Chief Minister Bhupinder Singh Hooda has been the target of a few top leaders, particularly union minister Selja, Rajya Sabha MP Birender Singh and Gurgaon MP and former union minister Rao Inderjit Singh, who allege that his government was discriminating against certain areas of Haryana in terms of development and funds while Hooda's own home district of Rohtak and other areas of his favourites were getting both in plenty.
Till now, the infighting was limited to political barbs, statements and a few rallies.
But this week saw Congress legislator from Panipat Balbir Pal Shah sending his resignation to assembly Speaker Kuldeep Sharma.
Shah had met Birender Singh just hours before he resigned, taking the ruling Congress leadership by surprise. Shah also alleged that the Hooda government was discriminating against his constituency.
Shah is no mean force in Haryana politics. He was transport minister during 1991-96 and was state Congress president during 1987-89, besides being a five-time legislator from Panipat.
His resignation put the Hooda camp on the backfoot even as the chief minister attempted damage control. Urging Shah to retract his resignation, the chief minister said the legislator could meet him any time to discuss his constituency's problems. Amid all this, there were reports that a couple of other legislators were also threatening to resign.
Several Hooda supporters, including ministers and legislators, jumped into the fray with "facts" about development works sanctioned and funds released for each district in the state.
Hooda, who is considered quite powerful in the state and central circles, especially with the Congress high command, will have to re-think his political strategies in view of the sudden resignation. With the Lok Sabha elections due next May and assembly polls to follow in October, Hooda cannot afford to annoy too many people at the same time.
Hooda, who has already declared himself chief minister for a third term from next year, has been in power in Haryana since March 2005. He was returned to office in Oct 2009.
The Congress seems to be well-placed in the state, given the fact that the top leadership of the main opposition, Indian National Lok Dal (INLD), is behind bars after its leaders Om Prakash Chautala, his son Ajay Chautala and others were convicted and sentenced to 10 years' imprisonment by a CBI court in New Delhi in a teachers' recruitment scam in January.
The INLD, the Bharatiya Janata Party (BJP) and the Haryana Janhit Congress (HJC) have not yet picked up pace to take on the Congress. Thus, to ensure that Hooda does not take it easy, his own party leaders seem to be keeping him on his toes.