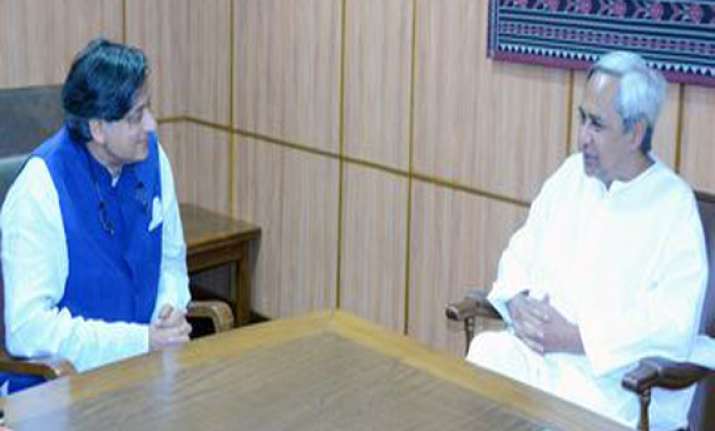 Bhubaneswar: Union Minister of State for Human Resource Development Shashi Tharoor has said that Congress' door was always open for Naveen Patnaik, though the BJD supremo on Friday maintained that his party would like to maintain equidistance from both the UPA and NDA.
"Our door is always open for Naveen Patnaik. But, it is not my place to work in the area. I have a different role. But, I know, many in our party have a high level of respect for Naveen Patnaik for taking leadership in Odisha," Tharoor told a local news channel after a meeting with the Chief Minister Thursday evening.
Talking on the possible pre-poll or post-poll alliance with the ruling party in Odisha for next year's Lok Sabha polls, Tharoor said that though BJD was acceptable to them as there was no basic fundamental difference with Congress, he was not the right person to talk on the subject.
"Naveen leads a secular party with which the Congress has no basic fundamental difference," Tharoor said.
Chief Minister Patnaik today, however, made it clear that the BJD would like to maintain equidistance from both the Congress-led UPA and BJP-led NDA.
Advocating a third front at the Centre, the Odisha Chief Minister said, "I think a third front is a healthy option."