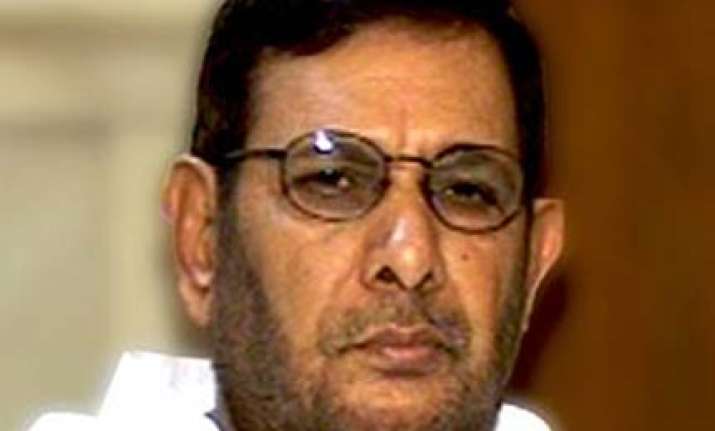 Patna, Oct 26 :  An incensed Congress today demanded immediate arrest of Sharad Yadav for his remark against Rahul Gandhi and said the JD(U) president had lost his mental balance even as Yadav sought to explain away saying his statement was "not at all" directed against Gandhi.
"Yadav, by making such a personal attack against Rahul Gandhi, appears to have lost his mental balance, rather he has gone insane, I have received several SMSes from people that he should be assigned to a mental asylum in Agra," Minister of State for Petroleum Jitin Prasad told reporters at Patna airport before leaving for campaigning.
State Congress spokesperson Prem Chandra Mishra said the party would not close the chapter here and would approach the Election Commission for immediate arrest of Yadav for his alleged inflammatory speech against the party General Secretary.
"It would be better if Chief Minister Nitish Kumar intervenes advising Yadav to apologise for his remarks," he said.
Addressing an election meeting at Fatua on Sunday evening, Sharad Yadav had attacked the Gandhi-Nehru family, saying Rahul Gandhi should be thrown away into the Ganga.
Yadav told reporters this morning that he had not made a "categorical personal remark against anyone".
"What I really meant during my speech was that the lantern, bungalow and panja(hand)-- election symbols of the RJD, LJP and Congress--be bundled together and thrown away in the Ganga because they are pursuing anti-people policies," he said.
Senior BJP and JD(U) leaders came to the defence of Yadav. BJP's Syed Shahnawaz Hussain and state Cooperative Minister Giriraj Singh claimed the JD(U) leader had not made any personal attack against Rahul Gandhi.
"Sharad ji has already clarified his position and there is no need for further debate on it," Hussain said alleging that the Congress leaders in fact were "in the habit of making personal attacks against opponents".
Alleging that Gandhi lacked 'political vision', Bihar minister Giriraj Singh said Yadav was "very decent in his comment and it should not not be construed as a personal attack.
"What Sharad ji has actually meant that the party and its leaders who have turned a bitter critic of RJD at the time of elections only to join hands later should be outrightly rejected," Singh said.
RJD leader Prabhunath Singh even suggested that the Congress leaders "can't understand Hindi and take things differently from what they actually mean"."In fact, the biggest problem with the Congress leaders is that they can't understand Hindi....". PTI