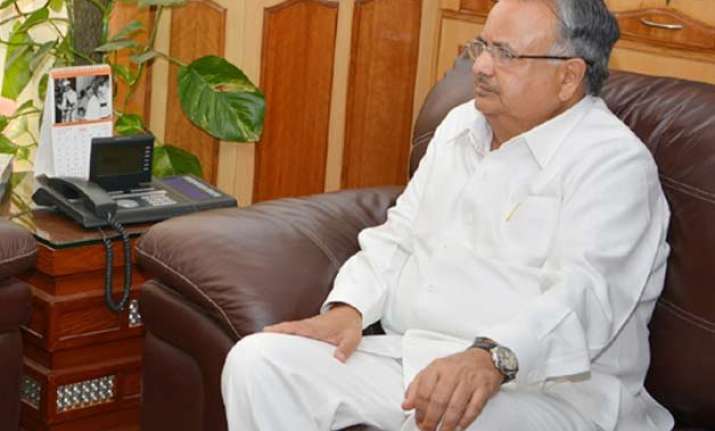 New Delhi: Congress on Saturday demanded resignation of Chhattisgarh Chief Minister Raman Singh over the alleged Rs 36,000 crore rice scam in the state, which it dubbed as the "biggest PDS corruption scam" in the country.
The fresh provocation, Congress said, was that the CM and family had not been named despite a fresh challan being filed in the court last month.
"Following raids on 36 offices of the State Civil Supplies Corporation, the Anti-Corruption Bureau (ACB) filed a challan but it is just a shoddy cover-up job to save the CM," AICC spokesman Ajay Maken alleged.
He alleged the ACB found the names of CM Singh, his wife and sister-in-law in a diary recovered from a raid on an accused. He said the documents seized by the ACB have names and addresses of Singh's sister-in-law, his personal secretary and OSD.
Citing another "diary entry", he alleged that Singh gave Rs 16 crore each to BJP headquarters and RSS office in Nagpur. He demanded the two organisations to respond.
Maken said the only way to trace the truth was by setting up a Special Investigation Team, monitored by the Supreme Court.
"In order to ensure a fair investigation, Raman Singh must be sacked immediately," he said while addressing a joint press conference along with Chhattisgarh PCC chief Bhupesh Baghel and state CLP leader T S Singhdeo.
Maken claimed that the magnitude of the scam could be judged from the fact that during the last 11 years of BJP rule in the state, the amount spent from the public exchequer on procurement of paddy as well as various other items came up to be about "Rs 1.5 lakh crore".
"The Chief Minister created a well-oiled corruption machine in connivance with rice mill owners, PDS shop owners and public officials to earn thousands of crores as kickbacks and commission," he alleged.
Besides, he claimed, "similar corruption" in procurement of other commodities like salt, gram, kerosene, wheat were made through the State Civil Supplies Corporation.