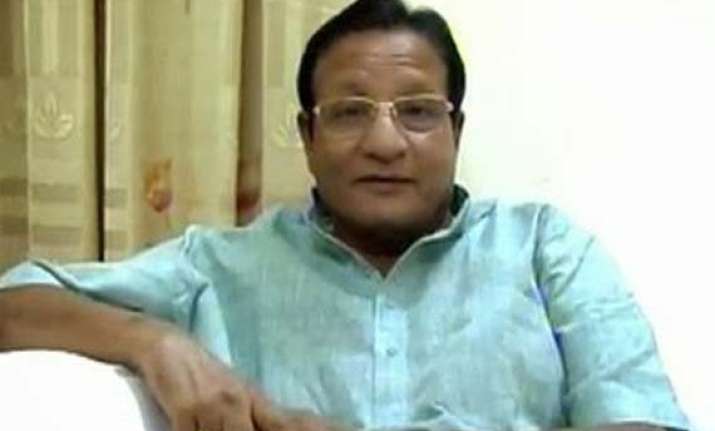 Kota (Raj): Congress today demanded a CBI investigations into kidnapping cum murder case of a 7-year-old boy, even as police was probing into the possible involvement two or three persons after zeroing-in on the mastermind of the crime.
Shanti Kumar Dhariwal, former home minister in previous Congress government in the state, slammed the ruling BJP government and demanded CBI inquiry into abduction cum murder of 7-year-old Rudraksh.
"The accused of the crime should be arrested immediately and an inquiry by CBI to initiated. The accused on whom the police have zeroed in should be arrested soon," he said He also demanded for a CBI inquiry to find the "political connections" of the alleged mastermind of the crime.  
"Who has promoted the business of the mastermind and helped him in leading a flashy life style along with sending him to foreign tours, should be probed into by CBI," Dhariwal demanded.
Meanwhile, police was working out on the possible involvement two or three other persons in the case after zeroing-in on a 32-year-old youth Ankur Padia, who is said to be the alleged mastermind of the case.
"We have clinching evidences against Padia and he will be in our custody very soon," ADG Crime Ajit Singh, who is camping in Kota to supervise the investigation told PTI today.  Police had zeroed in on Padia after technical probe and detailed analysis of various SIM cards and the calls records.  
"Some of the SIM cards which were scrutinised after the incident were obtained by giving fake identities," IG Kota Range Ravi Prakash Meherda said.
A suspicious white coloured car which had vague registration number also led the police to the accused.  "After initial probe, emails and other conversation of the accused on internet were monitored and made his involvement in the case clear," he said, adding that "there were ample evidences against Padia."
Meherada said Padia was absconding and police teams were searching him at various places within and outside Kota.  "We are hopeful of catching him soon," he said.  For the arrest of Padia and other accused, police teams have bee carrying out raids and search operations at possible places.
Police said, Padia used to live a flashy lifestyle but recently lost money in gambling which probably promoted him to plan the abduction.
"Probe revealed that he lost money in gambling and was in debt for some time so he hatched a plan to kidnap a boy on the evening of October 9, and called on the land-line phone in Rudraksh's house to demand a ransom of Rs 2 crore," he said.  
In another development, PCC chief Sachin Pilot today formed a three-member committee that visited the residence of Rudraksh's parents and assured any sort of support to the grieved family.
Kota district Congress president Govind Sharma told committee members Congress MLA from Sapota Ramesh Meena, state party secretary Giraj Garg and former MP Gopal Singh Edawa visited the grieved family today.
The members also visited the park from where the boy was kidnapped on Thrusday last and inquired with the neighbours, Sharma said and added the committee would submit its report to PCC chief Sachin Pilot.