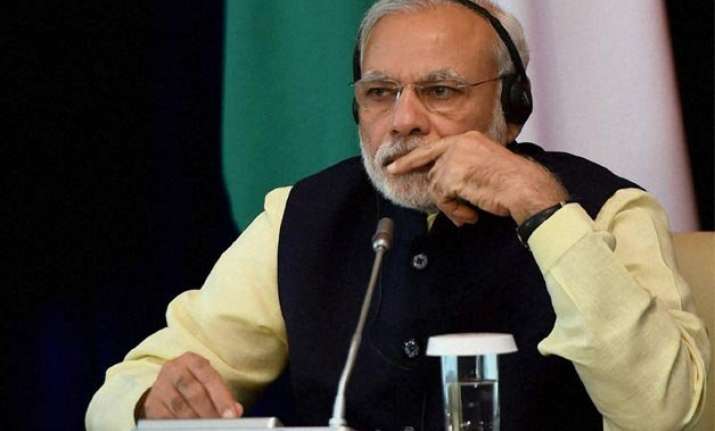 New Delhi:  Congress chief ministers are unlikely to attend a meeting convened by Prime Minister Narendra Modi on July 15 in an apparent bid to take the steam out of government's moves to push the controversial Land Bill in the Monsoon session of Parliament beginning next week.
Party sources gave indications to this effect when asked if its Chief Ministers could be considering a boycott of the meeting in the backdrop of Congress coming out strongly against the measure, dubbing it as "anti-farmer" and "pro-corporate".
The Prime Minister is scheduled to meet chief ministers to discuss the controversial land bill in the latest attempt to break the deadlock over it.
It will be the second meeting of the governing council of the National Institution for Transforming India (NITI Aayog), about a week before the monsoon session of parliament is set to begin.
Congress is ruling in nine states namely Kerala, Karnataka, Himachal Pradesh, Uttarkhand, Assam, Manipur, Meghalaya, Arunachal Pradesh and Mizoram.
Trinamool Congress leader and West Bengal Chief Minister Mamata Banerjee has already expressed her inability to attend the meeting and if Congress Chief Ministers stayed away, it would mean the absence of 10 of the some 30 Chief Ministers at the crucial meet.
Banerjee has written to the PM on her opposition to the land acquisition bill and her inability to attend the meeting due to pre-occupations.
In fact, Congress sources said that the party Chief Ministers have written identical letters to the Parliamentary Committee going into the measure informing it that their state is opposed to the provisions of the Bill and would like "no amendments" to be to made to the Right to Fair Compensation and Transparency in Land Acquisition, Rehabilitation and Resettlement Act, 2013.
They have held that the amendments go against the interests of farmers and take away the rights of tribal communities and gram sabhas.