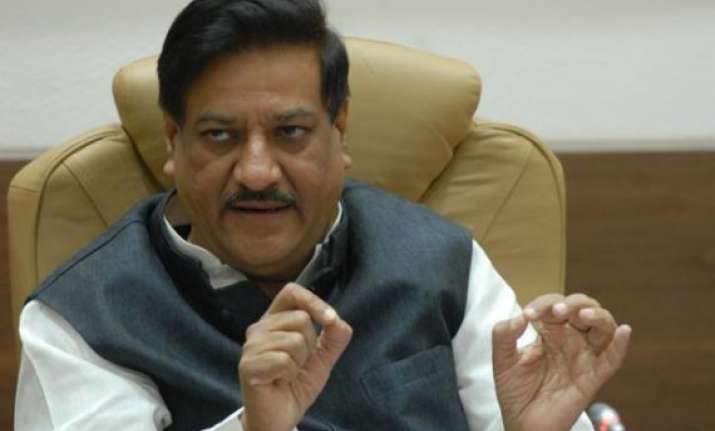 Mumbai: With Congress-NCP seat-sharing talks deadlocked over the latter's insistence on getting more seats to contest the Assembly polls, Maharashtra Chief Minister Prithviraj Chavan today said he is against breaking the alliance but party workers feel the ally's "body language is anti-Congress".
"It is not that we want to break the 15-year-old alliance, but Congress' grassroots cadre is not happy with the role of NCP in the government and during elections.  
"They are known to put up independent candidates to sabotage our chances. Our workers say their body language is anti-Congress," Chavan told PTI in an interview.  
Several top NCP leaders, including Deputy Chief Minister Ajit Pawar, nephew of party chief Sharad Pawar, have gone on record to demand 144 of the state's 288 Assembly seats on the strength of its better performance in Lok Sabha elections.  
NCP had won four of the 48 Lok Sabha seats in the state, while Congress could manage just two, in the worst-ever performance by the ruling combine.
Chavan said he had held a couple of rounds of talks with NCP leaders as the Congress high command had asked the state leadership to take a call on a seat-sharing formula.  
Chavan, set to face what promises to be the toughest electoral challenge in his career, said the Assembly elections due in October will test the leadership skills of both himself and Prime Minister Narendra Modi.
"The Assembly elections are an important test of my leadership abilities as also of the Prime Minister. If BJP does badly, it would reflect poorly on his leadership and people will say that the Lok Sabha win was just a flash in the pan," he said.
The 68-year-old Maratha leader also felt the much publicised Gujarat model of governance is "abstract sloganeering" and that Maharashtra, in the 15 years of Congress-NCP rule, had seen much more development than its neighbour which would help the ruling alliance stave off a repeat of its dismal performance in Lok Sabha polls.
"In every sector, Maharashtra is ahead of Gujarat... what is Gujarat model...and what is it that you have done and we haven't? We are leading in horticulture, industrialisation, education, health and are way ahead of others," Chavan said.  
He said Maharashtra is the most investment-friendly state and contributes almost 18.4 per cent to the country's industrial output and constitutes 14.09 per cent of its GDP.  
Quoting an ASSOCHAM report, Chavan said the state has received investment proposals worth Rs 14,73,466 crore, while Guajrat got proposals involving Rs 13,98,347 crore.  Maharashtra's model of tackling malnutrition has been praised by UNICEF as the best in the country, he said, adding stunting rates in the state have come down from 39 per cent to 24 per cent.
He said now the focus will be on spreading development of industrial centres in backward areas and tier-II and tier III cities.
Chavan said, apart from making people aware of steps taken by the government for development, he would highlight in the campaign the launch of the skill development mission in partnership with the private sector for 10th and 12th pass students.
The aim of the mission, he said, is to introduce advanced technology in agriculture to create fresh jobs and retain more people in the farm sector.
"What is important is people's perception that we have delivered, that they have a good, result-oriented government, growth is healthy and people are better off," he said.  
Chavan said despite the success of Modi's highly personalised campaign during Lok Sabha polls, he was not in favour of launching a such a campaign himself.  
"Congress' campaign will be collective and inclusive and not a personalised, individualistic campaign.
Congress' culture is collective and inclusive," he said.
Noting that a Chief Minister cannot be segregated from his party, Chavan said, "If a party wins, everyone wins.
If there are positive vibes about me among the people, that should be reflected in the voting as well.
If people want me as Chief Minister, they will vote for my candidate."
Referring to the humiliating defeat in Lok Sabha polls, he said the voters were disappointed with UPA-2 as it failed to fulfil the expectations of the people after the success of UPA 1.
"Modi caught the imagination of the people who were looking for a change," he said.
He, however, said he was confident of turning around the fortunes of the ruling alliance in the Assembly polls.  
"We fight every election to win and not to lose. Of course, Maharashtra poll is important for us as it will help the Congress to be back on path to recovery after a disastrous Lok Sabha performance," he said.
About talks of anti-incumbency factor going against the ruling alliance, Chavan said, "An efficient and good government is voted back to power irrespective of how many years it has been in power.
"There is no mathematical formula that if you are in power for so many number of years, you will lose the next election. In 2009, we had ten years of anti-incumbency.  
Similarly, at the Centre, five years of UPA rule did not prevent us from winning handsomely in 2009," he said.  Referring to the recent Assembly by-elections in which Congress fared better than BJP, Chavan said his party felt encouraged by the results.
When asked if his government had introduced quotas for Marathas and Muslims in government jobs and educational institutions with an eye on the Assembly polls, he said it was done on the basis of statistical and quantified data on their social and educational backwardness.
"I don't know whether it will benefit us electorally but it was the right thing to do," he said.
Asked if he would himself be in the fray in the polls, Chavan, a member of the Legislative Council, said, "Whether I contest or not, party's election committee will decide.
There is already a Congress MLA in my constituency Karad and I would not like to contest from anywhere other than my home seat."