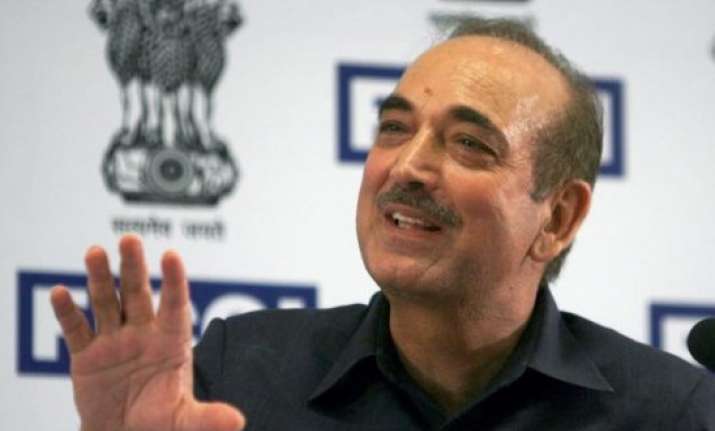 Jammu: Congress today accused BJP of taking a u-turn on core issues and said the party was busy in appeasement of separatists in the Kashmir valley.
"BJP has taken a U-turn on the core issues like Article 370, ceasefire violations, terrorism related violence as it was busy appeasing the separatists in the valley," Senior Congress leader Ghulam Nabi Azad said while addressing election rallies in Jammu region today.
Azad said that the people of the Jammu region were feeling cheated as BJP has maintained silence on these issues.
"UPA Government was dubbed as inefficient, weak, indecisive and at times 'traitor' by the BJP leadership on ceasefire violations, but ever since BJP has come to power at the Centre, there is no pause in the ceasefire violations and war-like situation was witnessed in the month of August 2014," the Leader of Opposition in Rajya Sabha said.
Azad expressed hope that people in large number have voted for Congress in the first four phases of the ongoing assembly elections.
"Despite the hype and hoopla that BJP tried to weave around it's so called mission 44 plus, the voting trends of first four phases clearly point towards resurgence of Congress in all the three regions of the State and that the people of Jammu have to take a wise decision to script a destiny of empowerment and progress," Azad said.
He appealed the voters in Jammu region to reject the "divisive forces" by voting for Congress in the last phase of the polling scheduled for December 20.
"People should reject the divisive and narrow politics of BJP, NC and PDP. The agenda of 'development' and 'good governance' which was articulated by Congress-led government had received immense support in all the regions of the state, and that there was an intense yearning among the people to re-enact the era of fast-track progress and massive infrastructure building," Azad said.
Taking a dig at the Ministers of NDA government, Azad said, "if there were support in favour of BJP, what was the need for a battalion of top central ministers like External Affairs Minister, Finance Minister, Home Minister, etc to be stationed in Jammu and hold street meetings in every nook and corner of the state."
The Congress leader also accused the ministers in the Modi government of sparing no time and commitment for the welfare of the people and the country.
"Scores of army and security jawans have been killed on the borders and in terrorist violence, our innocent civilians have lost lives on the borders and Prime Minister and the BJP government try to console the people of the state by calling them 'brave' and showing lip sympathy," Azad said.
He also alleged the BJP government of taking credit of the projects launched during the Congress-led UPA regime.
"By just inaugurating they take credit of the projects and schemes that were envisioned and launched by the Congress-led UPA government," Azad said.