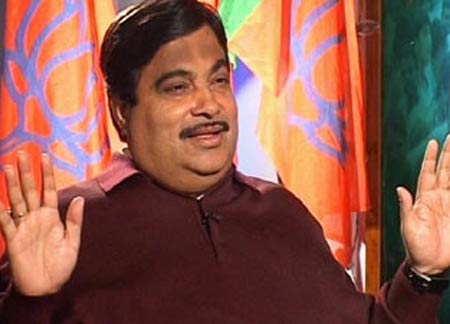 New Delhi/Mumbai: Rattled by the Opposition battering treasury benches over corruption, Congress on Wednesday retaliated by accusing BJP chief Nitin Gadkari of holding a benami flat in the scam-tainted Adarsh Housing Society.
"Ajay Sancheti, whose only claim to the membership of the BJP national executive is his proximity to Gadkari, has a benami flat in Adarsh Housing Society in the name of his driver," party spokesman Manish Tewari told reporters. He said a driver with a monthly salary of a little over Rs 8,000 could not purchase a Rs 60 lakh flat in a tony Colaba condominium.
In Nagpur political circles, the Sanchetis are close to the Gadkari family and Sancheti's elder brother, Chainsukh, is a BJP legislator from Malkapur in Buldhana district.
According to reports, an Adarsh flat is owned by Sudhakar Madke, a driver of a Nagpur firm, SMS Infrastructure Pvt Ltd. He is allottee No 7 in the list of 103 members. The firm's MD is Ajay Sancheti, who is a member of the BJP's national executive. The firm's chairman is Abhay Sancheti, whose son, Paramveer, is allottee No 85.
Madke's monthly income is Rs 8,600, while the cost of the flat purchased by him is Rs 60 lakh. He got the flat on a low-income certificate to fit the criterion of earning less that Rs 12,500 a month.
Gadkari threatened to initiate civil and criminal proceedings against Tewari for making baseless allegations. "We have given them a 72-hour ultimatum. If Tiwari does not tender an apology, we have asked our lawyers to launch criminal and civil proceedings against him," Madhav Bhandari, BJP spokesperson, told TOI.
Gadkari had demanded the dismissal of the Congress-NCP Maharashtra government for the alleged involvement of not only Chavan, but also of Vilasrao Deshmukh and Sushilkumar Shinde, both former chief ministers. He had also targeted NCP Maharashtra cabinet members Ajit Pawar and R R Patil.
"Merely because Gadkari knows the Sancheti family would be wrong to say that Gadkari owns a proxy flat. We have taken note of the allegations and we will proceed against the Congress as per legal advice," Bhandari said."The allegations are absolutely false," said Ajay Sancheti. "Gadkari has nothing to do with the flats in questions," he told TOI.
The escalating confrontation led to adjournments in both Houses on Wednesday. The stand-off is likely to continue through the week, with the BJP-led Opposition adamant on not letting the Houses run until its demand for the ouster of telecom minister A Raja over the 2G spectrum scam was met.
At its parliamentary party meeting on Wednesday morning, BJP leader L K Advani alleged that there were largescale irregularities in the Commonwealth Games. "This government is involved in corruption. Wherever Commonwealth Games were held, they got compliments about the success of the events, but here scams worth thousands of crores have come to light," deputy leader of BJP in Rajya Sabha S S Ahluwalia quoted Advani as saying.
Addressing partymen, Advani said the winter session would be dominated by issues of corruption and Kashmir.
Advani also alleged that the government had misused CBI to implicate RSS in terror attack cases and asked party MPs to demand JPC probes into anomalies in 2-G spectrum allocation, CWG projects and Adarsh Housing allotments. CVC and CBI are also being misused and politicized. "Those involved in corruption are being appointed in CVC," he said.