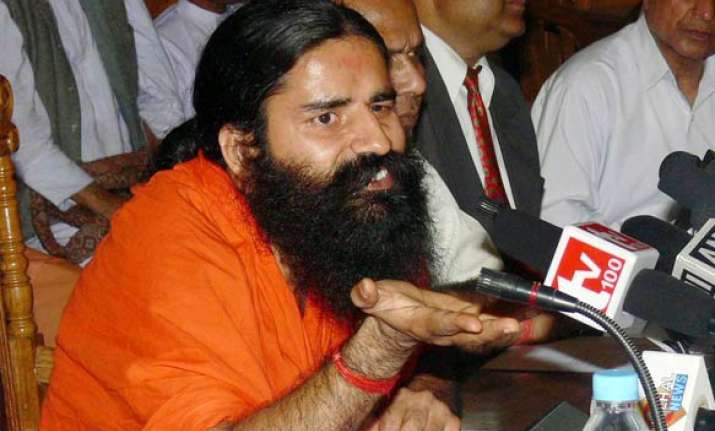 New Delhi, Feb 23: Congress leaders today attacked Baba Ramdev asking him to come clean on the source of funding for his activities before targeting their party on the issue of blackmoney while the BJP defended the yoga guru.
Watch Video--
Maintaining that financial records related to his activities were with the government, Ramdev asserted that he was "not against" the Congress after party general secretary Digvijay Singh accused him of being biased. Ramdev said he will form a party in June to fight "corruption which had become widespread in the country".
Accusing Ramdev of targeting the Congress, Singh said, "He (Ramdev) must understand that we are also as much against blackmoney as what he claims to be. My only request to him is that he should be fair. He should not be partisan.
"He is targeting only one political party. But I have only one request from him that whenever he accepts money from his disciples, he should get a proof from donors that the funds received by him are not black money," Singh told reporters.
Party MP P L Punia demanded an inquiry into Ramdev's assets. "There should be a probe into how Ramdev got so much wealth that he is opening ashrams across the world.
"He should either continue with his yoga or join politics," he said.
Echoing Singh's views, party spokesperson Shakeel Ahmed said, "Natural justice demands that one who has leveled allegations against others, should himself come clean."
At the same time, he dismissed the contention that party leaders Digvijay Singh and Punia's attack on Ramdev meant that the Congress was targeting him because he was raising the issue of corruption in UPA government.
"He is not only attacking Congress but accusing the entire political class. He had alleged that a minister in the BJP government in Uttarakhand had demanded Rs 2 crore bribe from him. Before accusing somebody else, one should come clean on one's deeds or misdeeds," Ahmed said.
The Congress leader, however, hastened to add that the issue has not come up for discussion in the party as it was "not so important" and any statement on the issue was not been given as party view or stand.
Reacting to Singh's comments on Ramdev, BJP leader M Venkaiah Naidu said, "The Congress has adopted a policy that offence is the best defence. Whenever somebody raises any issue against them, they start attacking that person.
"Now they are making absurd allegations against Baba Ramdev that he has black money. Congress is in Government. What has it done in this regard (to probe Ramdev's alleged black money)," the BJP leader said.
Speaking in Sibsagar, Assam, Ramdev said he planned to launch a political party in June which would focus on eradicating corruption and establishing a society based on the principles of Gandhism.
Referring to Congress attacks, he said. "Why is Congress making me feel guilty that I had accused the party of indulging in corruption?"
"As a spiritual leader, it is our duty to make people aware of the problem and urge them to come together and fight against corruption," he said.
"The Prime Minister, Manmohan Singh is an accomplished economist, but has veered away from the principles of Gandhism. He has been swayed by western ideology," Ramdev told a yoga camp.
Earlier, Ramdev had accused Congress MP Ninong Ering of calling him a "bloody Indian", a charge denied by the lawmaker who said he was only objecting to Ramdev leveling corruption charges against the party and Nehru-Gandhi family. PTI