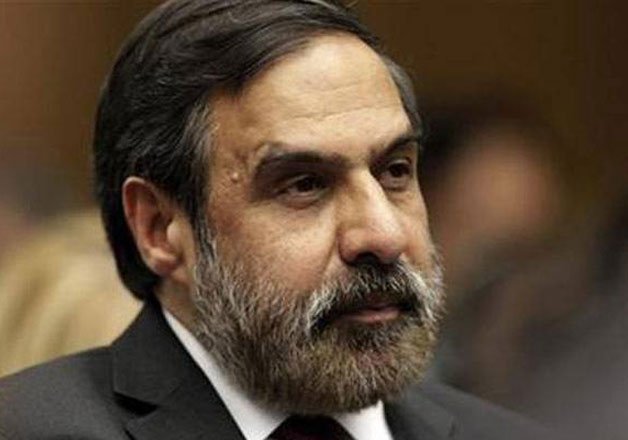 New Delhi: Congress leader and former Union minister Anand Sharma was today allegedly attacked by unknown assailants while participating in a protest meet held at Jawaharlal Nehru University (JNU) against the police crackdown in the campus on Friday.
According to eyewitnesses, Sharma was struck repeatedly on his ear by an assailant, leading to profuse bleeding. Congress sources said that he was attacked with a blade-like object which injured his ears, following which he was rushed home where a doctor provided him first aid.
The Congress was quick to attack the BJP for the incident. "Today is a black day for India's democracy where Anand Sharma was publicly attacked by government protected ABVP goons in JNU campus," Congress spokesperson Randeep Singh Surjewala said. 
How can Deputy leader of Opposition in Rajya Sabha be attacked by ABVP goons without protection of Delhi police on JNU campus? How can he (Anand Sharma) be attacked by a razor sharp weapon causing him injury?" he asked.
The JNU Students Union (JNUSU) soon issued a statement condemning the attack, and alleged that it was an Akhil Bharatiya Vidyarthi Parishad (ABVP) activist who assaulted the former union minister.
The senior Congress leader had gone to the JNU campus to meet the protesting students who have been agitating against the arrest of JNUSU president Kanhaiya Kumar in a sedition case for allegedly raising "anti-India" slogans during an event on the campus. JNUSU denies allegations that any of its members raised any such slogans.
Prior to the incident, Congress vice president Rahul Gandhi addressed the students criticising the police crackdown. In a dig at the ruling BJP, Rahul said that those who were stifling the voices of students were anti-nationals, and not a student who was only trying to express his anguish.
Apart from Gandhi, party's Delhi unit chief Ajay Maken, Communist Party of India-Marxist general secretary Sitaram Yechury, who is himself a former JNUSU leader, Communist Party of India national secretary D. Raja, Communist Party of India-Marxist-Leninist leader Kavita Krishnan and other senior leaders also visited JNU on Saturday and joined the protest.
Around 2,000 people including students, teachers and others gathered in front of administration block of the campus protesting against the arrest of JNUSU president.
ABVP, the student wing of the RSS, also staged a counter-protest, shouting slogans including "Rahul Gandhi go back."
Meanwhile JNU student union declared strike in university from Monday.
(With IANS inputs)