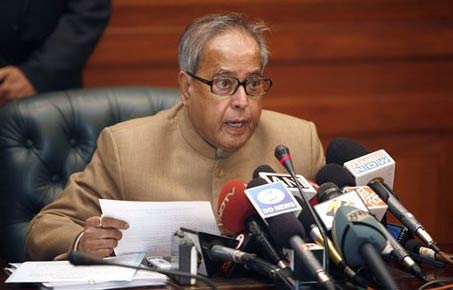 Madurai, Nov 18 :  Union Finance Minister and senior Congress leader Pranab Mukherjee today indicated that the UPA alliance would also continue for the coming Tamil Nadu Assembly elections due early next year.
"Our coalition started in 2004 (both in the state and at the Centre)... we have completed six and half years. There is no doubt that we will be able to do much more as we work together," Mukherjee said.
UPA alliance, which was responsible for socio-economic development of the country in the last six and half years, would continue for the next three and a half years, he said speaking at the marriage of Chief Minister and DMK President M Karunanidhi's grandson here.
At a glittering function held at the Tamukkam grounds, Dayanidhi Alagiri, son of Union Minister M K Alagiri, got married to Anusha, daughter of a Chennai-based lawyer.
The Chief Minister conducted 'Seerthirutha Tirumanam', marriage performed according to one's self-respect, rejecting all traditional rites and rituals.
Mukherjee said in the coming years the alliance would be able to do much more.
Describing the DMK chief as a "political patriarch of this great country," Mukherjee praised him for his contributions in the country's social and political transformation.
"I have great appreciation and respect for Karunanidhi for leading all of us in this country," he said.
Karunanidhi said the presence of two senior Congress leaders -- Mukherjee and Union Home Minister P Chidambaram -- and their speeches indicated "how strong and united" the alliance has been between the two parties.
"The presence of Congressmen and DMK men indicated how strong our alliance is," he said.
Karunandihi recalled that in those days such weddings (Seerthirutha Tirumanam) would attract only about 100 people. Now thousands of people had gathered here,and this showed how the concept of self-respect marriage system had spread far and wide and became popular.
"I hope it will become more popular in the years to come," he said.
Describing his son and Union Chemicals and Fertilisers Minister M.K.Alagiri as a sugarcane,he said he should be "handled carefully."
"If you go on eating the sugarcane after finding the root portion of it very sweet, carelessly,then you will cut yourself (in tongue or lip) with the sharp blades of the grass in the top portion of the cane,"  PTI