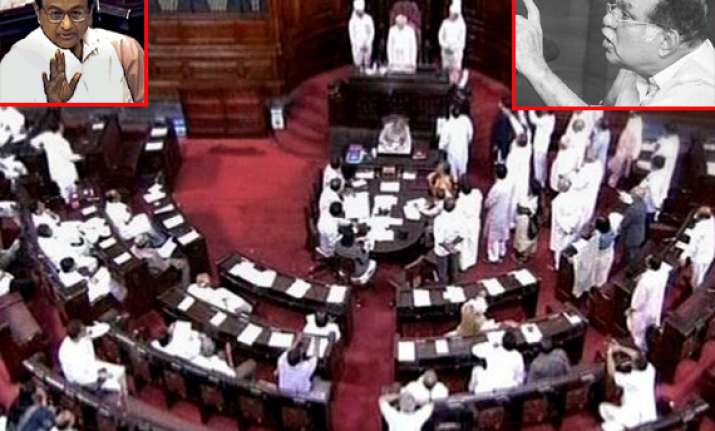 New Delhi: In an unusual episode, Finance Minister P Chidambaram and Deputy Chairman P J Kurien sparred in the Rajya Sabha over procedures, triggering commotion which led to stalling of the House for nearly an hour.
The row began at noon when Kurien called Leader of the Opposition Arun Jaitley to speak on the situation in Kishtwar area of Jammu and Kashmir which witnessed violence last week.    
Kurien called Jaitley after strong demand by BJP members earlier that he should be allowed to speak on the issue, particularly since he was not allowed to proceed to Kishtwar yesterday.    
Meanwhile, Chidambaram said he wanted to make a statement on the issue and insisted that he should be allowed first.   
Kurien, however, said he had already asked Jaitley to speak and the Finance Minister could make the statement after him.    
He told Chidambaram that if had to make a statement, he should have intimated in advance.    
At this Chidambaram remonstrated, saying, "This is a completely new practice. I must record by respectful protest."    
Chidambaram's party colleagues including Ahmed Patel, Ambika Soni and Satyavrat Chaturvedi backed him, asking the Chair to allow the government to make a statement on the issue first.    
However, Kurien stuck to his guns, saying, "When I came here, I allowed the LoP. I had no intimation from Government.
You should have intimated. I have allowed LoP. I stand by it."    
Chidambaram, backed by his party colleagues, continued to express protest over the Chair's decision.   
On the other hand, BJP members protested against the ruling party's objections to the Chair's decision.    
This led to an uproar, prompting Kurien to adjourn the House for half an hour.
When the House re-assembled at 12.40 PM, the issue of procedure again figured with members debating as to who should be allowed to speak first.    
Several leaders like BSP chief Mayawati, Naresh Agrawal and Ram Gopal Yadav (both SP) and Sitaram Yechury (CPI-M) also wanted to speak on the issue.    
Kurien said normally the government gets precedence in speaking in the House but since he had already called the Leader of the Opposition, he should be allowed to speak.    
He justified his decision, saying there was a convention to allow LoP to speak first.    
Earlier, Kurien had said he would allow BSP member Satish Mishra to speak after Jaitley as he had to raise a "humanitarian" issue of killing of the son of a party leader in violence in Kishtwar.    
"You should understand our anxiety...you give an assurance that we will be allowed to speak after the LoP speaks," Mishra had earlier said.    
Chidambaram can make his statement after that and members can seek clarifications, the Deputy Chairman said.    
This triggered protests by some other members, who said they also should be allowed to speak before Chidambaram.    
In view of protests, including from the ruling benches, Kurien said Jaitley could speak, which will be followed by the statement by Chidambaram.    
However, Mishra protested this, saying the Chair had already ruled that BSP would get a chance to speak after Jaitley.
The debate continued, stalling the proceedings till 1 PM, when finally the Chair agreed to allow members to speak before Chidambaram could make his statement.