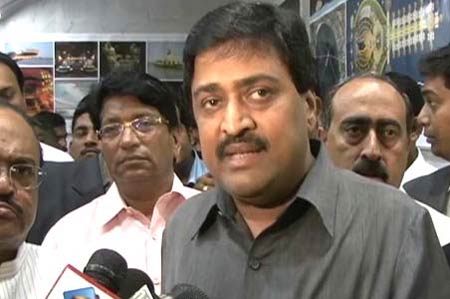 Mumbai, Nov 9 (PTI) Ashok Chavan today said his resignation as Maharashtra Chief Minister does not prove his guilt in the Adarsh Housing Society scam and claimed he was "100 per cent" sure that he will come clean on the issue.
"Acceptance of my resignation by Congress does not prove my guilt in the Adarsh Housing Society scam," Chavan told reporters after tendering his resignation to Governor K Sankaranarayanan.
"I resigned because of the Congress party's moral stand on such issues. I resigned on my own. My resignation has been accepted pending enquiry. The government is not involved in the scam," the outgoing chief minister said.
Chavan, who became the first casualty of the housing scam in which politicians and ex-Army officials are allegedly involved, said that it was not a political set back for him."I am 100 per cent sure, I will come out clean on this. There are ups and downs in political life. I will continue to work as party worker," he said.
Asked about whether allegations against him was politically motivated, he said: "Let there be a proper inquiry...The truth will definitely emerge."Chavan said, "I am grateful to party chief
Sonia Gandhi
for giving the opportunity (to become the Chief Minister)."
When asked who should be his successor, Chavan said that he would not like to comment on that.Justifying his decision to offer to quit, he said that "perception matters a great deal now-a-days...There was some confusion is people's mind, that confusion had to be cleared."
Despite getting the axe, Chavan, who completed one year in office last Sunday, asserted he still enjoyed the confidence of the Congress President.
"She twice gave me the opportunity to become Chief Minister. I still enjoy the confidence of my leader Soniaji. I am grateful for whatever she has done for me," he said.PTI