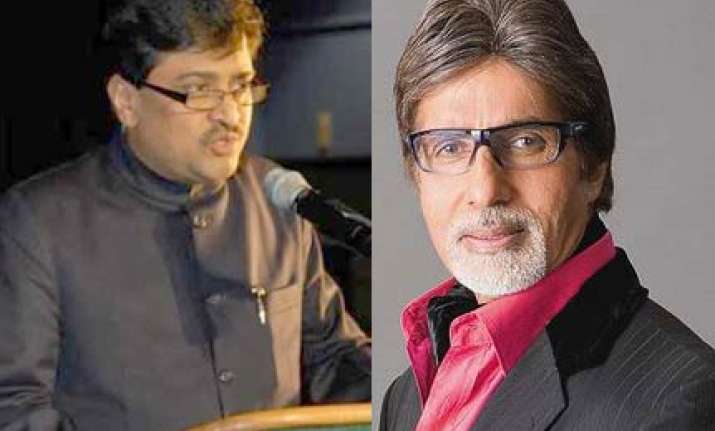 After the controversy over their joint appearance at the inauguration of Bandra-Worli sealink in Mumbai, Maharashtra Chief Minister Ashok Chavan has decide not to share the dais with superstar Amitabh Bachchan at a Marathi literary meet in Pune. 
Chavan, who was invited to attend the concluding ceremony of Akhil Bharatiya Marathi Sahitya Sammelan along with Bachchan tomorrow, has changed his plans and will visit the venue today itself, Chairman of the Sammelan's reception committee Satish Desai said. The Chief Minister would be taken around the venue and visit the book exhibition, he added. Bachchan will attend the Sammelan tomorrow as scheduled, Desai said. 
Chavan's change in the schedule comes in the backdrop of the row over invitation to Bachchan for the inauguration of the remaining four lanes of Bandra-Worli sealink earlier this week with Congress leaders from Mumbai taking objection to the chief minister sharing platform with Bachchan. 
The AICC had, however, sought to back the chief minister maintaining at the same time that the anger of party workers was justified in view of Bachchan's "identification" with Chief Minister Narendra Modi as the superstar was a brand ambassador for Gujarat.  Bachchan had hit out at his detractors, saying the whole controversy was manufactured. 
He dismissed as "hogwash" suggestions that the Congress is to blame for the controversy and said Sonia Gandhi's party has more pressing issues to attend to than belittle him. "The media attempts to insinuate that the Congress Party is responsible for this (row) and that it is a deliberate attempt to deface me is a lot of hogwash. 
The Congress is a large outfit that has governed this land for the largest tenure in the political history of our nation and continues to do so," the actor said in his latest blog post.  Congress spokesman Abhishek Singhvi had said in Delhi yesterday that the Congress had not issued any instructions to the Chief Minister. PTI