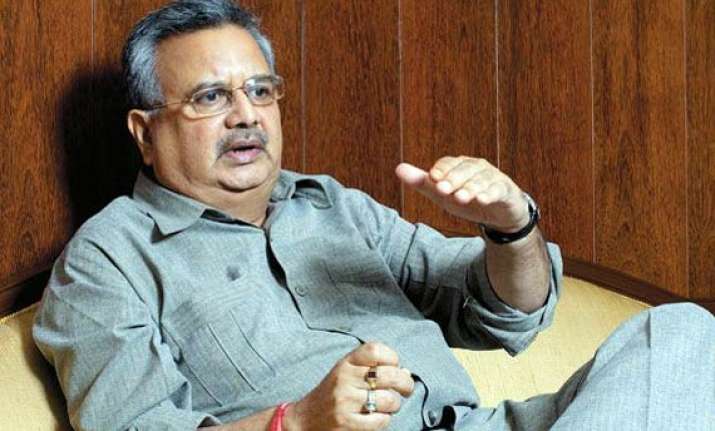 New Delhi, Nov 20: With Prime Ministerial aspirants said to be in abundance in BJP, Chhattisgarh Chief Minister Raman Singh seems to suggest that the race for the top job is wide open.

Singh, however, insists that he is not in the race. 

"The issue of who will become Prime Minister (if BJP comes to power) is decided in the biggest forum of the party, the Parliamentary Board and not before elections," the 59-year-old Singh told PTI in an interview. 

He was responding to question on whether he is suggesting that the issue of Prime Ministerial candidate within BJP is still unsettled.

The Chief Minister said, "Sometimes we project somebody while on many occasions, it is decided after the elections.  This is decided in our central Parliamentary Board. This is not an issue for now."

Singh said he had never even thought about his PM candidature as his focus is on Chhattisgarh Assembly elections in 2013, which takes place before the next general elections. 

"And everybody is in the race except me. I never think about that because there is a big election (next Assembly election) in our state after two years and that is before the Lok Sabha elections," he added.

To a specific question on where does he find himself in the race for Prime Ministership within the BJP as names of a number of Chief Ministers in BJP and NDA, are doing rounds for the same, Singh said he does not have "even any distant participation in this race."

Raman Singh's remarks are significant in view of the ongoing tussle for projection as party's Prime Ministerial candidate within the BJP with different voices about the possibilities of L K Advani, Narendra Modi, Sushma Swaraj, Arun Jaitley, Shivraj Singh Chauhan as well that himself for the top job.

Singh said his priority is to work for his state.
 
"Neither my thinking is in keeping with reaching there (being PM candidate)and nor do I find myself ready to work outside the state," he added.

Singh replied in affirmative when asked whether he believes that in this period of empowerment of regional leaders and powerful Chief Ministers more so in NDA, any state head could become Prime Minister of the country in the next Lok Sabha election.

"Why not? Any MLA, MLC, MP, Chief Minister or even a common man can become Prime Minister. How does it matter?  There is no condition for Prime Ministership in the country.  One needs to be just a voter for that and then has to win elections, which he can do even later on," Singh said.
 
Last week, former BJP chief Rajnath Singh had said that Advani was the "natural choice" for PM candidate.

Party chief Nitin Gadkari earlier said that only a Lok Sabha MP could be the party's Prime Minister if it comes to power.